Europe to the Stars: ESO's first 50 years of exploring the southern sky
ISBN: 978-3-527-41192-4
224 pages
October 2012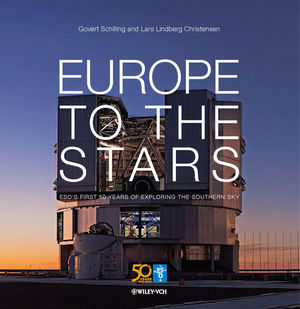 The creation of the European Southern Observatory (ESO) in 1962 was the culmination of the dream of leading astronomers from five European countries. Over the years, as more member states joined, ESO constructed the La Silla and Paranal observatories, as well as the Atacama Large Millimeter/submillimeter Array (ALMA) together with partners. ESO is now starting to build the world's biggest eye on the sky, the European Extremely Large Telescope.

At the dawn of 2012, its 50th anniversary year, ESO is ready to enter a new era. One that not even its founding members could have anticipated in their boldest dreams.

Constantly at the technological forefront, ESO is ready to tackle new and as yet unimaginable territories of high-precision technology and scientific discovery.

Produced especially for ESO's 50th anniversary, this sumptuously illustrated book takes the reader behind the scenes of the most productive ground-based observatory in the world. It contains the best 300 of ESO's images, hand-picked from a large collection of more than 100 000 images.


"Beautifully produced, Europe to the Stars tells the story of how dreams of giant telescopes became a reality and covers many of the exciting discoveries made at La Silla and Paranal." (BBC Sky at Night, 1 February 2013)
"Leave the book on your coffee table, certainly, but read it first and come back to it regularly. It's an
intelligent, inspiring celebration of a great European scientific adventure." (Astronomy Now, 1 March 2013)
See More
Lars Christensen is a science communication specialist heading the ESO education and Public Outreach Department (ePOD) in Munich, Germany. He is responsible for public outreach and education for the La Silla-Paranal Observatory, for ESO's part of ALMA, for the European Extremely Large Telescope, for ESA's part of the Hubble Space Telescope and for the International Astronomical Union Press Office.
See More
"It is certainly interesting for anyone connected to astronomy, but also for people with an interest in photography and the beauty of astronomical objects and the desert landscape." (Contemporary Physics, 14 May 2013)
"The achievements of ESO are well celebrated by this splendid book, and the price makes it a possible birthday present for your favourite astronomer." (The Observatory Magazine, 1 June 2013)
"Leave the book on your coffee table, certainly, but read it first and come back to it regularly. It's an
intelligent, inspiring celebration of a great European scientific adventure." (Astronomy Now, 1 March 2013)
"Beautifully produced, Europe to the Stars tells the story of how dreams of giant telescopes became a reality and
covers many of the exciting discoveries made at La Silla and Paranal." (BBC Sky at Night, 1 February 2013)
See More