Power Brands
ISBN: 978-3-527-50390-2
370 pages
December 2008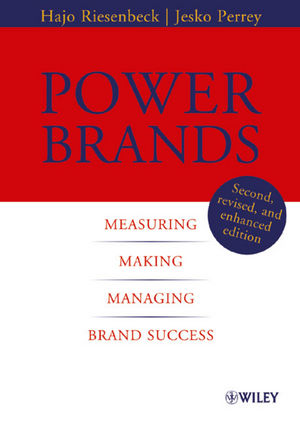 The McKinsey BrandMatics concept will show you how brands can be systematically managed. The individual tools and detailed concepts are organized into three topic areas: measuring, making, and managing power brands.
See More
Why you should read this book
Second edition acknowledgements
First edition acknowledgements
1. What Brands Can Do, and What Makes Them Strong
1.1 What Brands Mean for Consumers and Companies
1.2 The Secret of Strong Brands
Art meets Science: Creative Advertising Examined
1.3 McKinsey BrandMatics? -
Mastering Brand Management
Interview with Pieter Nota: >Brand Communication is a Top Management Responsibility<
2. Measuring Brands
2.1 The Brand Relevance Calculator: Assessing the Relative Importance of Brands
2.2 From Insight to Impact: Customer Insights and Segmentation for Better Brand Management
Qualitative Research helps identify Hidden Needs McKinsey's Core Beliefs about Segmentation
2.3 The Brand Diamond: Developing a Precise Understanding of Brand Image
2.4 The Brand Purchase Funnel: Measuring and Quantifying Brand Performance
Inside the Funnel: A Fresh Take on Consumer Decision Making
Interview with Are Thu: >Nokia is Moving to Value-Based Branding<
3. Making Brands
3.1 Brand Driver Analysis: Deriving Strategic Brand Direction and Initiatives for Growth Brand Management in the Kion Group of Companies
3.2 Matrix of Options: Defining and Synthesizing the Brand Promise and Putting it into Operation
Applying the Matrix of Options for Action
3.3 Brand Portfolio Management: Coordinating Multiple-Brand Strategies Systematically
Brand Leverage: Five Observations about Brand Transfer BrandMatics Advanced
3.4 The Brand Personality Gameboard: Matching Celebrity Endorsements to Brand Personality Profiles
Interview with Prof. Dr.-Ing. Wolfgang Reitzle: >Consistency Takes Absolute Priority<
4. Managing Brands
4.1 Brand Delivery: How to Bring the Brand Promise to Life across All Customer Touch Points
Orange Brand Launch in France -
Inside=Outside: Brand Transformation
DHL: Becoming the World's First Choice in Logistics through Systematic Brand Management
4.2 Marketing RoI: Quest for the Holy Grail
Marketing at Sony Ericsson Mobile Communications: Spending in the Right Place
4.3 The Brand Cockpit: Collecting and Using Data Systematically and Effectively
How the Dashboard became a Cashboard: Cisco Systems? Award-winning Marketing Cockpit
AstraZeneca's Brand Equity Tool
4.4 The Brand Organization: Systems and Requirements
4.5 Involving External Service Providers: True Partnerships that Lead to Joint Success
Interview with Chris Burggraeve: >New Models and Measurements to Stay the Number One Global Brand in the Digital Age<
5. Power Brands: Ten Perspectives
Table of illustrations
Selected bibliography
Companies and brands
About the authors
About the illustrations
See More
Hajo Riesenbeck joined McKinsey & Company, Inc., in 1979 as a consultant in Dusseldorf. He was elected to Principal in 1985 and to Director in 1991. He advises international clients in the consumer goods, financial services, branded industrial products, retail, transportation, and chemicals industries. He is one of the leaders of McKinsey's global Marketing Practice. His books include Mega-Macht Marke (2004/2005), Marketing nach Maß (2007), and Power Brands: Measuring, Building, and Managing Brand Success (originally published in 2007, now in its second edition). He is also the author of numerous articles and speeches on marketing.

Jesko Perrey is a Partner of McKinsey & Company, Inc. and based in the Dusseldorf office, which he joined in 1999. He leads McKinsey's German Marketing & Sales Practice and serves clients in the consumer goods, retail, financial services, and logistics industries. The functional focus of his work is on branding and marketing spend effectiveness. His books include Mega-Macht Marke (2004/2005), Marketing nach Maß (2007), and Power Brands: Measuring, Building, and Managing Brand Success (originally published in 2007, now in its second edition). Mr. Perrey is also a sought-after speaker and contributor on a wide range of topics in brand management.

See More