E-book
The Chemistry of Nanomaterials: Synthesis, Properties and Applications, 2 Volumes
ISBN: 978-3-527-60417-3
761 pages
January 2006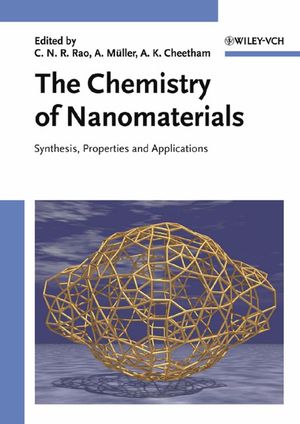 With this handbook the distinguished team of editors has combined the expertise of leading nanomaterials scientists to provide the latest overview of this field.
The authors cover the whole spectrum of nanomaterials, ranging from theory, synthesis, properties, characterization to application, including such new developments as:
· quantum dots, nanoparticles, nanoporous materials, as well as nanowires, nanotubes and nanostructural polymers
· nanocatalysis, nanolithography, nanomanipulation
· methods for the synthesis of nanoparticles.
The book can thus be recommended for everybody working in nanoscience: Beginners can acquaint themselves with the exciting subject, while specialists will find answers to all their questions plus helpful suggestions for further research.
See More
Preface

Nanomaterials -
An Introduction

Strategies for the Scalable Synthesis of Quantum Dots and Related Nanodimensional Materials

Moving Nanoparticles Around: Phase-Transfer Processes in Nanomaterials Synthesis

Mesoscopic Assembly and Other Properties of Metal and Semiconductor Nanocrystals

Oxide Nanoparticles

Sonochemistry and Other Novel Methods Developed for the Synthesis of Nanoparticles

Solvothermal Synthesis of Non-Oxide Nanomaterials

Nanotubes and Nanowires

Synthesis, Assembly and Reactivity of Metallic Nanorods

Oxide-Assisted Growth of Silicon and Related Nanowires: Growth Mechanism, Structure and Properties

Electronic Structure and Spectroscopy of Semiconductor Nanocrystals

Core-shell Semiconductor Nanocrystals for Biological Labeling

Large Semiconductor Molecules

Oxomolybdates: From Structures to Functions in a New Era of Nanochemistry

Nanostructural Polymers

Recent Developments in the Chemistry and Chemical Applications of Porous Silicon

Nanocatalysis

Nanoporous Materials

Photochemistry and Electrochemistry of Nanoassemblies

Electrochemistry with Nanoparticles

Nanolithography and Nanomanipulation
See More
"Die Bücher sind ein guter Einstieg um sich mit dem Thema der Nanomaterialien vertraut zu machen? Ich denke, dieses Buch ist vor allem für Personen, die sich für Nanomaterialien interessieren und sich auch über einen längeren Zeitraum damit beschäftigen wollen, geeignet."
Hexenkessel, Uni Stuttgart
"Vor allem das breite Themenspektrum macht dieses Werk so interessant. ...Das Buch ist für den synthetisch arbeitenden Chemiker ein guter Einstieg in das Thema "Nanomaterialien" und bietet ihm die Möglichkeit, über den Tellerrand hinaus zu schauen; Fachleute können sich mit dem Buch, vor allem wegen des ausführlichen Registers und der zahlreichen Literaturzitate, schnell einen Überblick verschaffen. ... Insgesamt kann man dieses Buch ... uneingeschränkt empfehlen."
Nachrichten aus der Chemie
"Alles in allem ist das Buch zur Begleitung von Vorlesungen in den Studiengängen Chemie und Materialwissenschaften bestens geeignet."
Angewandte Chemie
"Die drei international ausgewiesenen Herausgeber, der Inder Rao, der Deutsche Müller und der in den USA lebende Brite Cheetham verkörpern nicht nur selbst internationale Spitzenforschung, sie haben sich der internationalen Elite auf dem Gebiet der Chemie der Nanomaterialien als Autoren der 21 Kapitel versichert.
... Ich kann das Buch uneingeschränkt allen Materialwissenschaftlern empfehlen, die sich mit der Synthese und Anwendung chemisch erzeugter Nanomaterialien beschäftigen."
Zeitschrift für Physikalische Chemie
"...in this book the editors have done a great job in making different chapters coherent and complementing, even down to the style of writing and the emphasis of areas of coverage. The production of the book is to the highest quality, including the unusual use of colour photographs, when necessary, to good effect."
—Wei Sha,
Materials World
"... this is a worthwhile contribution to the mainstream nanoscience literature."
—Paul Mulvaney, Nanotechnology Laboratory, school of Chemistry, University of Melbourne, Advanced Materials, Vol. 17, No. 9, May 2, 2005
See More