E-book
Polar Oxides: Properties, Characterization, and Imaging
ISBN: 978-3-527-60489-0
391 pages
March 2006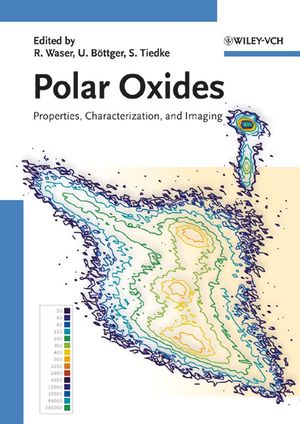 Here, more than 20 experts from leading research institutes around the world present the entire scope of this rapidly developing field. In so doing, they cover a wide range of topics, including the characterization and investigation of structural, dielectric and piezoelectric properties of ceramic materials, a well as phase transitions, electrical and optical properties and microscopic investigations. Another feature is a complete profile of the properties of polar oxides -- from their proof to their latest applications.
Throughout, the authors review, discuss and assess the material properties with regard to new and advanced characterization and imaging techniques.
For physicists, physicochemists, semiconductor and solid state physicists, materials scientists, and students of chemistry and physics.
See More
1 Dielectric Properties of Polar Oxides
2 Piezoelectric Characterization
3 Electrical Characterization of Ferroelectrics
4 Optical Characterization of Ferroelectric Materials
5 Microwave Properties and Measurement Techniques
6 Advanced X-ray Analysis of Ferroelectrics
7 Characterization of PZT-Ceramics by High-Resolution X-Ray Analysis
8 In-Situ Synchrotron X-ray Studies of Processing and Physics of Ferroelectric Thin Films
9 Characterization of Polar Oxides by Photo-Induced Light Scattering
10 Ferroelectric Domain Breakdown: Application to Nanodomain Technology
11 Pyroelectric Ceramics and Thin Films: Characterization, Properties, and Selection
12 Nano-inspection of Dielectric and Polarization Properties at Inner and Outer Inerfaces in PZT Thin Films
13 Piezoelectric Relaxation and Nonlinearity investigated by Optical Interferometry and Dynamic Press Technique
14 Chaotic Behavior near the Ferroelectric Phase Transition
15 Relaxor Ferroelectrics - from Random Field Models to Glassy Relaxation and Domain States
16 Scanning Nonlinear Dielectric Microscope
17 Electrical Characterization of Ferroelectric Properties in the Sub-Micrometer Scale
18 Searching the Ferroelectric Limit by PFM
19 Piezoelectric Studies at Submicron and Nano Scale
See More
The Editors:
Rainer Waser is Professor of Physics at the faculty of Electrical Engineering and Information Technology of the RWTH Aachen University and Director at the Institute of Solid State Research (IFF) at the HGF Research Center Jülich, Germany.

In 1984, he received his PhD in physical chemistry at the University of Darmstadt, and worked at the Philips Research Laboratory, Aachen, until he was appointed professor in 1992. His research group is focused on fundamental aspects of electronic materials and on such integrated devices as non-volatile memories, specifically ferroelectric memories, logic devices, sensors and actuators.

Professor Waser's co-editors are Dr. Ulrich Böttger, who works alongside him at the the faculty of Electrical Engineering and Information Technology of the RWTH Aachen University, and Stephan Tiedke of the aixACCT Systems GmbH company.
See More