E-book
3D Laser Microfabrication: Principles and Applications
ISBN: 978-3-527-60840-9
403 pages
August 2006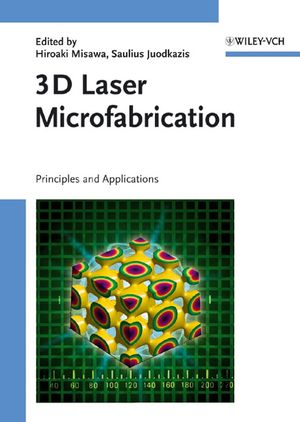 A thorough introduction to 3D laser microfabrication technology, leading readers from the fundamentals and theory to its various potent applications, such as the generation of tiny objects or three-dimensional structures within the bulk of transparent materials.
The book also presents new theoretical material on dielectric breakdown, allowing a better understanding of the differences between optical damage on surfaces and inside the bulk, as well as a look into the future.
Chemists, physicists, materials scientists and engineers will find this a valuable source of interdisciplinary knowledge in the field of laser optics and nanotechnology.
See More
Introduction
Lithography (planar 2D technology)
3D micro/nano fabrication methods
Dielectric breakdown theory
Focusing by a high numerical aperture objective lens
Propagation effects of high intensity pulses in transparent media
Formation of ripple-like structures inside transparent materials
Dynamics of chemical bond breakage in materials
Femtosecond fabrication of transparent media
Recording in polymers
Laser-assisted 3D fabrication of photochromic glasses
Applications of femtosecond lasers in 3D machining of metals and dielectrics
Laser sources

See More
Hiroaki Misawa is Professor at the Research Institute for Electronic Science at Hokkaido University, Sapporo, Japan. He obtained his B.Sc. in Engineering from the Department of Engineering at Tokyo Metropolitan University in 1979, graduated in Engineering from the University of Tsukuba in 1981 and completed his Ph.D. at the Department of Chemistry there in 1984. After postdoctoral positions at the Universities of Texas and Tsukuba and an Assistant Professorship at Tsukuba, he joined the Micro-photo-conversion project (Exploratory Research for Advanced Technology ERATO of Japan Science & Technology Agency JST). He then moved on to the Department of Engineering at the University of Tokushima in 1993 and was promoted to full professor in 1995. His current research interests include photochemistry, light-matter interaction, ultra-fast processes in materials, photonic crystals, and plasmonics. He has authored more than 200 papers.

Saulius Juodkazis is Associate Professor at the Research Institute for Electronic Science at Hokkaido University, Japan. He received his Physics Diploma in 1986 from Vilnius University, Lithuania, and was later confered
a lecturer qualification in Physical Sciences. In 1997, he received his Ph.D. in Physics and Material Science jointly from Vilnius University and l'Université Claude Bernard in Lyon, France, on the structural and optical
properties of CdS doped waveguiding sol-gel films. From 1994, he worked as a researcher at the Semiconductor Physics Department, currently Institute of Material Science and Applied Research, of Vilnius University, and from 1997 to 2000 carried out post-doctoral research at Tokushima University, Japan. His current interests include space-time-spectrum-resolved characterization of light-matter interactions in micro-domains, nano-photonics/plasmonics, laser tweezers, and applications of ultra-fast laser pulses. He has published and co-authored more than 90 scientific papers.
See More