E-book
Neurotransmitters and Neuromodulators: Handbook of Receptors and Biological Effects, 2nd, Completely Revised and Enlarged Edition
ISBN: 978-3-527-60907-9
402 pages
December 2006, Wiley-Blackwell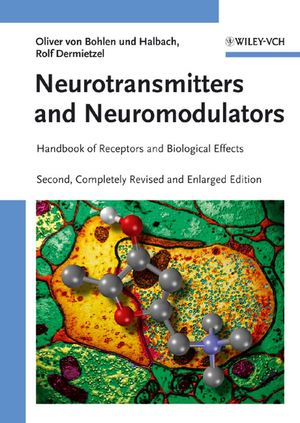 A complete update of the highly acclaimed handbook with data on all neurotransmitters and the majority of neuromodulators. The coverage is now even more comprehensive, with 15% more entries on neuropeptides, "classic" neurotransmitters and related substances in a clear, alphabetical format. The methodological section has been expanded by 50% and now includes color figures, plus new chapters on genomics, proteomics, databases, microarrays, MALDI-TOF, neutrophins, FGF, endocannabinoids and neuroimaging. The text provides clearly structured information on the biosynthesis and degradation, localization, receptors, signal transduction pathways, and biological effects in the central nervous system, with all substances uniformly treated for an easy comparison of data. Furthermore, introductory chapters on receptors, transporters, and the blood-brain barrier make this an indispensable tool for researchers, teachers, and advanced students, as well as a must-have for every neuroscientist.
See More
INTRODUCTION
Neuroactive Substances
Receptors and Transporters
Distribution and Localization of Neurotransmitters and Neuromodulators
The Blood-Brain Barrier
Volume Transmission and Wiring Transmission
METHODS FOR STUDYING NEUROACTIVE SUBSTANCES
Bio- and Radioisotope Assays
Microdialysis and Electrochemical Detection
Chromatography
Autoradiography
Immunohistochemical Methods
In-situ Hybridization
Staining and Neuroanatomical Tract Tracing
Electrophysiology
Behavioral Testing
Microarrays
MALDI-TOF
Neuroimaging
Genomics und Proteomics Methods
Databases
NEUROTRANSMITTERS
Acetylcholine
Dopamine
GABA (Gamma-Amino Butyric Acid)
Glutamate and Aspartate
Glycine
Histamine
Norepinephrine
Serotonin (5-hydroxytryptamine)
NEUROMODULATORS
Adrenocorticotropic Hormone (ACTH)
Anandamide
Angiotensin
Atrial Natriuretic Factor
Calcitonin and Calcitonin Gene-Related Protein
Cholecystokinin
Corticotropin-Releasing Factor (CRF)
Dynorphin
Eicosanoids and Arachidonic Acid
Endocannabinoids
Endorphin
Enkephalin
FGF
Galanin
Growth Hormone-Releasing Hormone
Gonadotropin-Releasing Hormone
Interleukin
Melanin-Concentrating Hormone
Melanocyte-Stimulating Hormone
Neurotensin
Neutrophins
Nitric Oxide
Nociceptin (Orphanin FQ)
Neuropeptide Y
PACAP (pituitary adenylate cyclase-activating polypeptide)
Proopiomelanocortin
Purines
Somatostatin
Substance P and Tachykinins
Thyrotropin-Releasing Hormone
Tyr-MIF-1 Family
Vasoactive Intestinal Polypeptide (VIP)
Vasopressin and Oxytocin
See More
Oliver von Bohlen und Halbach gained his PhD in biology at the University of Constance, Germany. He carried out his postdoctoral training at the Medical Faculty, Charite, of the Humboldt-University in Berlin. Since 2001 he is postdoctoral fellow at the Interdisciplinary Center for Neurosciences at the Medical Faculty of the University of Heidelberg, Germany.

Rolf Dermietzel obtained his MD in 1970 at the Medical School Essen, Germany, where he continued his training, being appointed as Associate Professor 1976. In 1984 he started a research fellowship at the California Institute of Technology, Pasadena followed by a position as Visiting Professor at the Albert-Einstein College of Medicine, New York, in 1988. One year later he became Chairman of the Institute of Anatomy at the University of Regensburg, Germany, and in 1998 Chairman of the Institute of Anatomy at the University of Bochum, Germany.
See More