E-book
N-Heterocyclic Carbenes in Synthesis
ISBN: 978-3-527-60940-6
319 pages
December 2006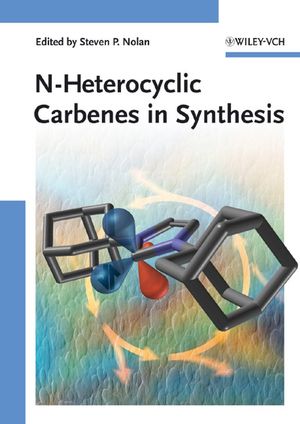 This first handbook to focus solely on the application of N-heterocyclic carbenes in synthesis covers metathesis, organocatalysis, oxidation and asymmetric reactions, along with experimental procedures. Written by leading international experts this is a valuable and practical source for every organic chemist.
See More
N-Heterocyclic Carbene-Ruthenium Complexes in Olefin Metathesis
Ruthenium N-Heterocyclic Carbene Complexes in Organic Transformations (excluding metathesis)
Cross Coupling Reactions Catalyzed by Palladium N-Heterocyclic Carbene Complexes
Pd-NHC Complexes as Catalysts in Telomerisation and Aryl Amination Reactions
Metal-Mediated and Catalyzed Oxidations Using N-Heterocyclic Carbene Ligands
Efficient and Selective Hydrosilylation of Alkenes and Alkynes Catalysed by Novel N-Heterocyclic Carbene Pt(0) Complexes
Ni-NHC Mediated Catalysis
Asymmetric Catalysis with Metal-N-Heterocyclic Carbene Complexes
Chelate and Pincer Carbene Complexes
The Quest for Longevity and Stability of Iridium-Based Hydrogenation Catalysts: N-Heterocyclic Carbenes and Crabtree's Catalyst
Cu-, Ag- and Au-NHC Complexes in Catalysis
N-Heterocyclic Carbenes as Organic Catalysts
See More
Steven P. Nolan was born in Quebec City, Canada. He received his B.Sc. in chemistry from the University of West Florida and his Ph.D. from the University of Miami where he worked under the supervision of Professor Carl D. Hoff. After a postdoctoral stay with Professor Tobin J. Marks at Northwestern University, he joined the Department of Chemistry of the University of New Orleans in 1990. He now holds the rank of University Research Professor of Chemistry. His research interests include organometallic chemistry, homogeneous catalysis and most recently the use of N-heterocyclic carbenes in homogeneous catalysis.
See More