E-book
Exploring the Human Plasma Proteome
ISBN: 978-3-527-60942-0
394 pages
December 2006, Wiley-Blackwell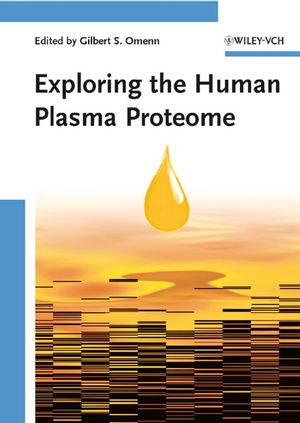 On the cutting edge of medical diagnostics, plasma proteomics promises to generate a new wave of technologies to help identify many different diseases and disease risks.
Plasma and serum are the preferred non-invasive specimens to test normal individuals, at-risk groups, and patients for protein biomarkers discovered and validated to reflect physiological, pathological, and pharmacological phenotypes. These specimens present enormous challenges due to extreme complexity, huge dynamic range in protein concentrations, non-standardized methods of sample processing, and intra- and inter-individual variation from genetics, diet, smoking, hormones, and other sources. This book presents the major findings from the collaborative Plasma Proteome Project organized by the international Human Proteome Organization (HUPO). The chapters are drawn from a larger set of publications in the journal PROTEOMICS. This book provides a valuable foundation for development and applications of proteomics.
See More
Exploring the Human Plasma Proteome

Overview of the HUPO Plasma Proteome Project

Data management and preliminary data analysis in the pilot phase of the HUPO Plasma Proteome Project

HUPO Plasma Proteome Project specimen collection and handling: Towards the standardization of parameters for plasma proteome samples

Immunoassay and antibody microarray analysis of the HUPO Plasma Proteome Project reference specimens: Systematic variation between sample types and calibration of mass spectrometry data

Depletion of multiple high-abundance proteins improves protein profiling capacities of human serum and plasma

Differences among techniques for high-abundant protein depletion

Immunoaffinity separation of plasma proteins by IgY microbeads: Meeting the needs of proteomic sample preparation and analysis

A novel four-dimensional strategy combining protein and peptide separation methods enables detection of low-abundance proteins in human plasma and serum proteomes

A wide range of protein isoforms in serum and plasma uncovered by a quantitative intact protein analysis system

A study of glycoproteins in human serum and plasma reference standards (HUPO) using multilectin affinity chromatography coupled with RPLC-MS/MS

Evaluation of prefractionation methods as a preparatory step for multidimensional based chromatography of serum proteins

Utility of electrophoretically derived protein mass estimates as additional constraints in proteome analysis of human serum based on MS/MS analysis

Efficient prefractionation of low-abundance proteins in human plasma and construction of a two-dimensional map

Two-dimensional liquid chromatography/tandem mass spectrometry analysis of GradiflowTM fractionated native human plasma

Application of 2-D free-flow electrophoresis/RP-HPLC for proteomic analysis of human plasma depleted of multi high-abundance proteins

Peptidomic analysis of human blood specimens: Comparison between plasma specimens and serum by differential peptide display

Comparison of alternative analytical techniques for the characterisation of the human serum proteome in HUPO Plasma Proteome Project

The human plasma proteome: Analysis of Chinese serum using shotgun strategy

A proteomic study of the HUPO Plasma Proteome Project's pilot samples using an accurate mass and time tag strategy

Analysis of Human Proteome Organization Plasma Proteome Project (HUPO PPP) reference specimens using surface enhanced laser desorption/ionization-time of flight (SELDI-TOF) mass spectrometry: Multi-institution correlation of spectra and identification of biomarkers

An evaluation, comparison, and accurate benchmarking of several publicly available MS/MS search algorithms: Sensitivity and specificity analysis

Centralized data analysis of a large interlaboratory proteomics project: A feasibility study


Human Plasma PeptideAtlas

Do we want our data raw? Including binary mass spectrometry data in public proteomics data repositories

A functional annotation of subproteomes in human plasma

Cardiovascular-related proteins identified in human plasma by the HUPO Plasma Proteome Project Pilot Phase

Plasma Proteome Database as a resource for proteomics research

PRIDE: The proteomics identifications database
See More
Gilbert S. Omenn is Professor of Internal Medicine, Human Genetics, and Public Health and director of the Center for Computational Medicine and Biology at the University of Michigan. Since 2002 he has led the international Human Proteome Organization (HUPO) Human Plasma Proteome Project and the Michigan Proteomics Alliance for Cancer Research. Omenn is the author of 425 research papers and scientific reviews and author/editor of 18 books. A longtime director of Amgen, Inc, and of Rohm & Haas Company, he chaired the Presidential/Congressional Commission on Risk Assessment and Risk Management ("Omenn Commission") and the NAS/NRC/IOM Committee on Science, Engineering and Public Policy, and served as president of the American Association for the Advancement of Science (AAAS).
See More