E-book
The SQUID Handbook: Applications of SQUIDs and SQUID Systems, Volume II
ISBN: 978-3-527-60950-5
653 pages
December 2006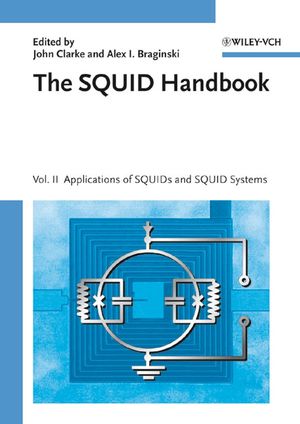 This two-volume handbook offers a comprehensive and coordinated presentation of SQUIDs (Superconducting Quantum Interference Devices), including device fundamentals, design, technology, system construction and multiple applications. It is intended to bridge the gap between fundamentals and applications, and will be a valuable textbook reference for graduate students and for professionals engaged in SQUID research and engineering. It will also be of use to specialists in multiple fields of practical SQUID applications, from human brain research and heart diagnostics to airplane and nuclear plant testing to prospecting for oil, minerals and buried ordnance.
While the first volume presents the theory and fabrication of SQUIDs, the second volume is devoted to applications. It starts with an important aspect of the analysis of measured magnetic signals generated by current sources (the inverse problem), and includes several chapters devoted to various areas of application, namely biomagnetism (research on and diagnostics of human brain, heart, liver, etc.), detection of extremely weak signals, for example electromagnetic radiation and Nuclear Magnetic Resonance.
The volume closes with a chapter on motion detectors and the detection of gravity waves.

See More
SQUID Voltmeters and Amplifiers (Clarke, Lee, Mück, Richards)
SQUIDs for Standards and Metrology (Gallop, Piquemal)
Magnetic Inverse Problem (Lima, Irimia, Wikswo)
Biomagnetism (Vrba, Nenonen, Trahms)
Measurements of Magnetism and Magnetic Properties of Matter (Black, Wellstood)
Nondestructive Evaluation of Materials and Structures using SQUIDs (Krause, Donaldson)
SQUIDs for Geophysical Survey and Magnetic Anomaly Detection (Clem, Foley, Keene)
Gravity and Motion Sensors (Paik)

See More
John Clarke, University of California, Berkeley ist weltweit einer der renommiertesten Grundlagenforscher für SQUIDs. Einen ähnlich herausragenden Ruf hat Alex I. Braginski, ehemaliger Direktor des Forschungszentrum Jülich, im Bereich der SQUID-Anwendungen.
See More