E-book
Robot Grippers
ISBN: 978-3-527-60989-5
463 pages
February 2007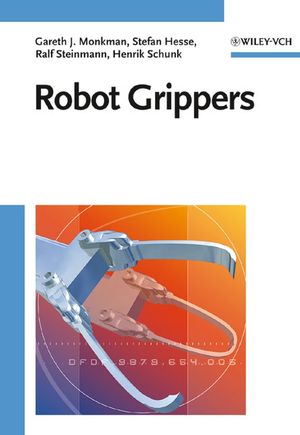 Since robotic prehension is widely used in all sectors of manufacturing industry, this book fills the need for a comprehensive, up-to-date treatment of the topic. As such, this is the first text to address both developers and users, dealing as it does with the function, design and use of industrial robot grippers. The book includes both traditional methods and many more recent developments such as micro grippers for the optolectronics industry. Written by authors from academia, industry and consulting, it begins by covering the four basic categories of robotic prehension before expanding into sections dealing with endeffector design and control, robotic manipulation and kinematics. Later chapters go on to describe how these various gripping techniques can be used for a common industrial aim, with details of related topics such as: kinematics, part separation, sensors, tool excahnge and compliance. The whole is rounded off with specific examples and case studies. With more than 570 figures, this practical book is all set to become the standard for advanced students, researchers and manufacturing engineers, as well as designers and project managers seeking practical descriptions of robot endeffectors and their applications.
See More
- Introduction to Prehension Technology
- Automatic Prehension
- Impactive Mechanical Grippers
- Ingressive Grippers
- Astrictive Prehension
- Contigutive Prehension
- Miniature Grippers and Microgrippers
- Special Designs
- Hand Axes and Kinematics
- Separation
- Instrumentation and Control
- Tool Exchange and Reconfigurability
- Compliance
- Selected Case Studies
See More
Gareth Monkman is Professor of Robotics and Automation at the Fachhochschule Regensburg in Germany. Besides authoring a large number of academic papers, he also holds numerous patents in the field of gripper technology.

Dr.-Ing. habil. Stefan Hesse works as technology consultant for manipulator technology, gives lectures at the Technical College Technikum Vienna, and has been working as editor and author for many years.

Ralf Steinmann is head of Sales and Marketing Automation at SCHUNK GmbH & Co. KG, Obersulm.

Dipl.-Wirtsch.-Ing. Henrik Schunk is CEO of SCHUNK Intec Inc., Raleigh-Morrisville (USA).
See More