E-book
Handbook of Machine Vision
ISBN: 978-3-527-61014-3
821 pages
February 2007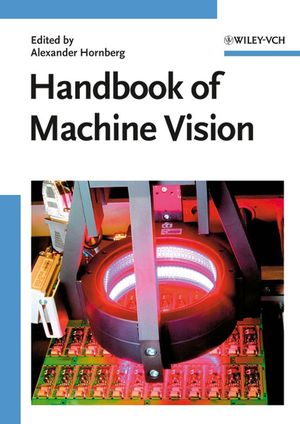 With the demands of quality management and process control in an industrial environment machine vision is becoming an important issue. This handbook of machine vision is written by experts from leading companies in this field. It goes through all aspects of image acquisition and image processing. From the viewpoint of the industrial application the authors also elucidate in topics like illumination or camera calibration. Attention is paid to all hardware aspects, starting from lenses and camera systems to camera-computer interfaces. Besides the detailed hardware descriptions the necessary software is discussed with equal profoundness. This includes sections on digital image basics as well as image analysis and image processing. Finally the user is introduced to general aspects of industrial applications of machine vision, such as case studies and strategies for the conception of complete machine vision systems. With this handbook the reader will be enabled not only to understand up to date systems for machine vision but will also be qualified for the planning and evaluation of such technology.
See More
Processing of Information in the Human Visual System
F. Schaeffel, Universitats-Klinikum Tubingen

Introduction to Building a Machine Vision Inspection
A. Telljohann, Consulting Team Machine Vision

Lighting in Machine Vision
I. Jahr, Vision & Control

Optical Systems in Machine Vision
K. Lehnhardt, Schneider Optische Werke

Camera Calibration
R. Godding, AICON 3D Systems

Camera Systems in Machine Vision
H. Mattfeldt, Allied Vision Technologies

Camera Computer Interfaces
T. Iglesias et al., National Instruments

Machine Vision Algorithms
C. Steger, MVTec Software

Machine Vision in Manufacturing
P. Waszkewitz, Bosch
See More
Alexander Hornberg is Professor for Physics and Photonics at the University of Applied Sciences Esslingen, Germany. He holds a degree in physics and a doctorate in mathematics from the University of Karlsruhe. He started his professional career as development and software engineer for a major industry manufacturer (DUNLOP) in 1989. In 1992 he returned to higher education at the University of Applied Sciences Ulm. Since 1997 he has been working in the field of machine vision at the Technical University of Applied Sciences Esslingen.
See More