E-book
Micro Instrumentation: For High Throughput Experimentation and Process Intensification - a Tool for PAT
ISBN: 978-3-527-61061-7
520 pages
June 2007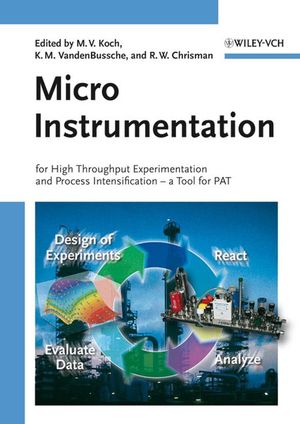 This first comprehensive treatment of the intertwined roles of micro-instrumentation, high throughput experimentation and process intensification as valuable tools for process analytical technology covers both industrial as well as academic aspects. First class editors and authors from top companies and universities provide interdisciplinary coverage ranging from chemistry and analytics to process design and engineering, supported throughout by case studies and ample analytical data.
See More
INTRODUCING THE CONCEPTS
Introduction
New Directions in Micro-Technology
Process Intensification
High Throughput Research
Putting the Concepts Together
CASE STUDIES AND TECHNOLOGY DEVELOPMENTS
Micro-technology Development and Characterization
Non-reactor Micro-component Development
Micro-component Flow Characterization
Selected Developments in Micro-analytical Technology
Catalyst Characterization for Gas Phase Processes
Liquid Phase Process Characterization
Novel Systems for New Chemistry Exploration
DuPont/MIT Integrated Microtechnology Systems
New Platform for Sampling and Sensor Initiative (NeSSI)
The Use of Pilot Plant Data in Process Development
Going from Laboratory to Pilot Plant to Production Using Micro-reactors
SUMMARY AND CONCLUSIONS
See More
Dr. Melvin V. Koch is director of the Center for Process Analytical Chemistry (CPAC) and Affiliate Professor of Chemical Engineering, at the University of Washington in Seattle. He previously worked for the Dow Chemical Company in process research and analytical chemistry, achieving the level of Global Director of Analytical Sciences. Dr. Koch is active in coordinating developments in the field of process analytical technology between industry, government laboratories, and academia. He is serving on the US FDA Advisory Committee for Pharmaceutical Sciences and on review committees at several US National Laboratories.

Dr Kurt M. VandenBussche currently manages the technical resources of UOP's Innovation Group. He holds a Masters and Ph.D. degree in Chemical Engineering from the University of Ghent, Belgium. In 1994, he joined Shell Research and Development in Amsterdam, the Netherlands, as a hydrocracking process specialist. Since joining UOP LLC in December 1996, he has played a number of roles as a reaction engineering and process design consultant and later as technical manager. In 2002, he became a founding member of UOP's Innovation Group. Dr. VandenBussche is member of the executive board of ISCRE Inc and the author of a large number of scientific papers. He is a co-inventor on 15 patents and received the International DSM award for Science and Technology for his contributions in the development of forced unsteady state operation of chemical reactors.

Dr. Ray W. Chrisman is president of Atodyne Technologies and a Visiting Scholar at CPAC. He previously worked for the Dow Chemical Company in various technical and administrative roles in corporate R&D and analytical chemistry. This work involved new technology development and the introduction and use of high throughput technology including the development of patented micro-reactor systems for process characterization. He received a Ph.D. from Purdue University and has published 13 papers and a book chapter in the "Treatise on Analytical Chemistry". He is also the co-inventor on 7 patents.

See More