E-book
Radical Polymerization: Kinetics and Mechanism
ISBN: 978-3-527-61087-7
270 pages
June 2007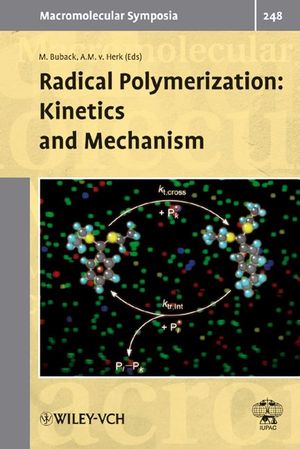 This volume from the successful Macromolecular Symposia series presents the contributions from the IUPAC-sponsored International Symposium on "Radical Polymerization: Kinetics and Mechanism", held in Il Ciocco, Italy, in September, 2006. This was the fourth within the series of so-called SML conferences, which are the major scientific forum for addressing kinetic and mechanistic aspects of free-radical polymerization and controlled radical polymerization. SML IV again marked an important step forward toward the better understanding of the kinetics and mechanism of radical polymerization, which is extremely relevant for both conventional and controlled radical polymerization and for people in academia as well as in industry.
Here, top international authors, such as K. Matyjaszewski, T. P. Davis and T. Fukuda, present their latest research. The five major themes covered were: Fundamentals of free-radical polymerization, heterogeneous polymerization, controlled radical polymerization, polymer reaction engineering, and polymer characterization.

See More
FUNDAMENTALS OF RADICAL POLYMERIZATION
CONTROLLED RADICAL POLYMERIZATION
POLYMER REACTION ENGINEERING AND POLYMER MATERIALS
POLYMERIZATION IN HETEROGENEOUS SYSTEMS

See More
Michael Buback is Professor for Physical Chemistry at the University Goettingen. He has received numerous awards, e.g. the Carl-Duisberg Prize of the German Chemical Society, the Bunsen-Denkmünze and the Hermann F. Mark Medal. His research interests are radical polymerization, chemical processes in extended ranges of temperature and pressure, chemical reactions in supercritical fluid phase and vibrational spectroscopy up to high pressures and temperatures.

Professor Alex van Herk is full professor in polymer chemistry in Eindhoven and visiting professor at the University of Göttingen (Germany). He is a member of the IUPAC working party on modelling of polymerization kinetics and a member of the international polymer colloids group. Since june 2001 he is director of the educational program in the faculty of chemical engineering and chemistry in Eindhoven. Furthermore he is chairman of the industrial liaison program emulsion polymerization (SEP).
See More