E-book
Antitargets: Prediction and Prevention of Drug Side Effects
ISBN: 978-3-527-62147-7
504 pages
April 2008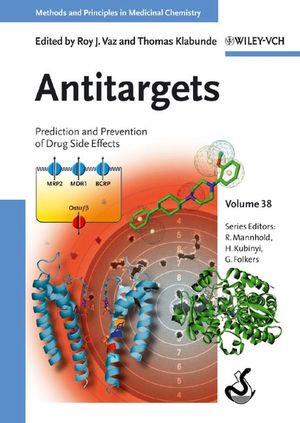 This practice-oriented handbook surveys current knowledge on the prediction and prevention of adverse drug reactions related to off-target activity of small molecule drugs. It is unique in collating the current approaches into a single source, and includes several highly instructive case studies that may be used as guidelines on how to improve drug development projects.
With its large section on ADME-related effects, this is key knowledge for every drug developer.
See More
PART I: GENERAL ASPECTS
Why drugs fail: study on side effects in New Chemical Entities
Use of Broad Biological Profiling as a Relevant Descriptor to Describe and Differentiate Compounds: Structure-In Vitro (Pharmacology-ADME)-In Vivo (Safety) Relationships
PART II: ANTITARGETS: ION CHANNELS AND GPCRs
Pharmacological and regulatory aspects of QT prolongation
hERG Channel Physiology and Drug-Binding Structure-Activity Relationships
Qsar and Pharmacophores for Drugs Involved in hERG Blockage
GPCR Antitarget Modeling: Pharmacophore Models to Avoid GPCR-Mediated Side Effects
The Emergence of Serotonin 5-HT2B Receptors as Drug "Antitargets"
Computational Modeling of Selective Pharmacophores at the a1-Adrenergic Receptors
PART III: ANTITARGETS: CYTOCHROME P450s AND TRANSPORTERS
Cytochrome P450s: drug-drug interactions
Site of Metabolism Predictions: Facts and Experiences
Irreversible Cytochrome P450 Inhibition: Common Sub-Structures and Implications for Drug Development
MetaSite: Understanding CYP Antitarget Modeling for Early Toxicity Detection
Orphan Nuclear Receptor PXR-Mediated Gene Regulation in Drug Metabolism and Endobiotic Homeostasis
Ligand Features Essential for Cytochrome P450 Induction
Transporters and Drugs -
An Overview
Computational Models for P-Glycoprotein Substrates and Inhibitors
PART IV: CASE STUDIES OF DRUG OPTIMIZATION AGAINST ANTITARGETS
Selective Dipeptidyl Peptidase IV Inhibitors for the Treatment of Type 2 Diabetes: The Discovery of JANUVIA (Sitagliptin)
Strategy and Tactics for hERG Optimizations
Structure-Based In Silico Driven Optimization: Discovery of the Selective 5-HT1A Agonist PRX-00023
See More
Roy Vaz is the head of investigative pharmacokinetics at the Bridgewater, NJ (USA) location of Sanofi-Aventis Pharmaceuticals. He received his Ph.D. in Organic Chemistry from the University of Florida, Gainesville (USA), after graduating from the Indian Institute of Technology in Mumbai (India). Prior to his present appointment, he has worked with Bristol-Myers-Squibb and Tripos. He is a specialist on the prediction and modeling of cytochrome-mediated drug metabolism.

Thomas Klabunde obtained his PhD in chemistry from the University of Munster (Germany). After a postdoctoral fellowship at the Texas A&M University, he was appointed Assistant Professor at the Institute for Bioscience and Technology in Houston (USA). Later on, he joined the pharmaceutical research of Sanofi-Aventis in Frankfurt (Germany), where he is currently a group leader. His main interest lies with drug design approaches for G protein-coupled receptors, notably in the areas of lead finding and chemogenomics.

See More
More in this series