E-book
Molecular Devices and Machines: Concepts and Perspectives for the Nanoworld, 2nd Edition
ISBN: 978-3-527-62169-9
588 pages
April 2008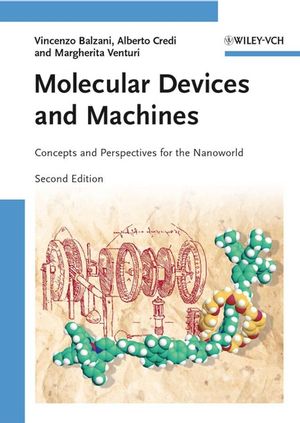 Targeted at a broad audience ranging from chemists and biochemists to physicists and engineers, this book covers advanced research while being written in an easily understandable language accessible to any interested researcher or graduate student.
Following an introduction to the general concepts, the authors go on to discuss devices for processing electrons and electronic energy, memories, logic gates and related systems, and, finally, molecular-scale machines.
See More
Preface
GENERAL CONCEPTS
Introduction
Processing Energy and Signals by Molecular and Supramolecular Systems
DEVICES FOR PROCESSING ELECTRONS AND ELECTRONIC ENERGY
Fundamental Principles of Photoinduced Electron and Energy Transfer
Wires and Related Systems
Switching Electron- and Energy-Transfer Processes
Light Harvesting Antennae
Photoinduced Charge-Separation and Solar Energy Conversion
MEMORIES, LOGIC GATES, AND RELATED SYSTEMS
Bistable and Multistable Systems
Logic Gates and Circuits
MOLECULAR-SCALE MECHANICAL DEVICES, MACHINES, AND MOTORS
Basic Principles
Spontaneous Mechanical-Like Motions
Movements Related to Opening, Closing, and Translocation Functions
Machines Based on DNA
Linear Motions
Rotary Motions
Conclusive Chapter


See More
Vincenzo Balzani, born in 1936, received his Laurea in 1960. Since 1973 he is full professor of chemistry in Bologna, Italy. He was visiting professor at the universities in Vancouver, Canada, Jerusalem, Israel, University of Strasbourg, France, University of Leuven, Belgium, and Bordeaux, France. His research interests are molecular-level devices and machines, nanotechnology, supramolecular chemistry, photochemistry, -physics, -catalysis, electron transfer reactions, luminescent sensors, and solar energy conversion. He is editor of several books, member of editorial boards of prestigious journals, amoungst Chemistry - A European Journal, ChemPhysChem, Inorganic Chemistry, RSC Dalton Transacitons, Chemical Society Reviews. He received several awards, e.g. Pacific West Coast Inorganic Lectureship, USA and Canada, 1985, Gold Medal "S. Cannizzaro", Italian Chemical Society, 1988, Franqui Chair, University of Leuven, Belgium, 1991, Wenner Gren Distinguished Lectureship, Sweden, 1993, Ziegler-Natta Lecturer, Gesellschaft Deutscher Chemiker, 1994, Italgas European Prize for Research and Innovation, 1994, Centenary Lecturer, The Royal Chemical Society (U.K.), Lee Lecture, University of Chicago, 1995-96, Blacet Lecture, University of California at Los Angeles, 1998, Porter Medal for Photochemistry, 2000, Italian-French Award, Societe Francaise de Chimie, 2002, Upper Rhine Lectureship, France and Germany, 2002, Premio al Merito, Camera di Commercio, Industria e Agricoltura della Provincia di Forli-Cesena, 2003.


See More