E-book
Clinical Proteomics: From Diagnosis to Therapy
ISBN: 978-3-527-62216-0
694 pages
September 2008, Wiley-Blackwell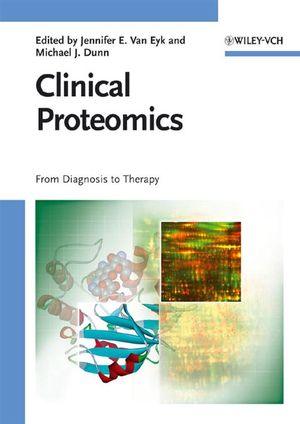 Unparalleled in its scope and depth, this book brings together proteomic approaches in diagnosis and treatment from all clinical fields, including clinical toxicology. The result is a new discipline in molecular medicine that will revolutionize the treatment and prevention of cancer, stroke and other severe diseases.
Following an overview of clinical proteomics, the authors look at the technologies available, before moving on to cancer, cardiopulmonary disease, diabetes and stroke. A whole section is devoted to toxicity and the work is rounded off with a discussion of the future of clinical proteomics.
See More
Editors Overview

PART 1: TECHNOLOGIES
Pre-analytical issues in clinical proteomic studies
Protein separation by 2DE
Protein separation : liquid chromatography
HPLC in protein discovery
IEF analysis of peptides for biomarkers analysis
Capillary electrophoresis separations for clinical proteomics
Quantitative proteomics using nanoLC with high accuracy mass spectrometry
Antibody microarrays for protein and glycan detection
Biomarker Identification: The Role of Experimental Design, Statistics, and Data Sharing
PART 2: CANCER
Applications of stable isotope tagging based quantitive proteomics in cancer research
2-D liquid seperations, protein microarrays and mass spectrometry in comprehensive analysis of PTM and biomarker discovery
Development and Use of Reversed-Phase Protein Microarrays for Clinical Applications
CDK1 and cancer: usefulness of proteomic approaches in assesment of the molecular mechanisms and efficacy of novel therapeutics
PART 3: CARDIOVASCULAR DISEASE
Diagnostic markers for monitoring heart transplant rejection
The study of microheterogeneity in human plasma proteins: applications to acute myocardial infarction
Discovery of biomarkers for cardiovascular diseases
Development of biomarker Developfment Pipeline: Search for Myocardial Ischemia Biomarkers
Albuminome as a tool for biomarker discovery
PART 4: VASCULAR DISEASES
Application of Metabolomics to Cardiovascular Biomarker and Pathway Discovery
Urinary biomarkers in diabetic nephropathy and other glomerular diseases
Pulmonary proteomics
Proteomics providing insights into major psychiatric disorders
PART 6: BIOMARKERS
Redox Proteomics Analysis of Oxidative Modified Brain Proteins in Alzheimer's Disease and Mild Cognitive Impairment: Insights into the Progression of This Dementing Disorder
Toxicoproteomics: correlating tissue and serum proteins in liver injuries
Biomarkers for renal disease and uraemic toxins
HIV and other viral screens
PART 6: AUTOANTIBODIES AND SIGNATURE BIOMARKERS
Application of Fungal Cyclic Peptides and Metabolites
Microarray approaches to autoantibody profiling
Identification of tumor antigen-directed autoantibodies
PART 7: FUTURE
Antibody and Reverse Capture Protein Microarrays
Use of Antibody Microarrays in the Analysis of Inflammation, Autoimmunity, Viral Infection, and Cancer Metastases
The Future: Translation from Discovery to the Clinic -
Roles of HUPO and industry in biomarker discovery
See More
Jennifer Van Eyk is the Director of the Johns Hopkins Bayview Proteomics Center and Professor of Medicine, Biological Chemistry and Biomedical Engineering at Johns Hopkins University in Baltimore, Maryland. She has developed novel methods to investigate heart disease including preconditioning, ischemic injury and heart failure with emphasis on both understanding the underlying pathological mechanism and for the development of diagnostic biomarkers. Dr. Van Eyk sits on numerous editorial boards including Proteomics, Proteomics: clinical application, Journal of Physiology and Circulation Research.



Michael J. Dunn was recently appointed as Professor of Biomedical Proteomics at University College, Dublin (Ireland), where he is doing proteomics research in the areas of cardiovascular disease, transplantation and neurological disease. Prior to his move to Dublin, he was Professor of Proteomics at the Institute of Psychiatry, King's College London.
Dr. Dunn is the current President of the British Society for Proteome Research and the Editor-in-Chief of the journal Proteomics. He is also a founder Council Member of the Human Proteome Organisation (HUPO) and a member of the Executive Committee of the HUPO Brain Proteome Project (BPP).

See More