E-book
Ceramic Matrix Composites: Fiber Reinforced Ceramics and their Applications
ISBN: 978-3-527-62240-5
440 pages
September 2008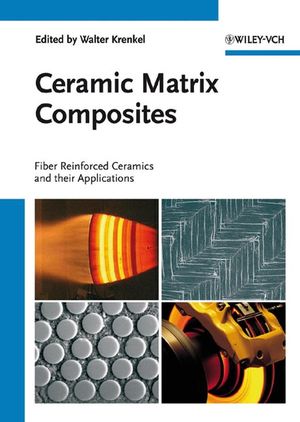 Covering an important material class for modern applications in the aerospace, automotive, energy production and creation sectors, this handbook and reference contains comprehensive data tables and field reports on successfully developed prototypes. The editor and authors are internationally renowned experts from NASA, EADS, DLR, Porsche, MT Aerospace, as well as universities and institutions in the USA, Europe and Japan, and they provide here a comprehensive overview of current R & D with an application-oriented emphasis.
See More
Fibers for Ceramic Matrix Composites
Textile Reinforcement Structures
Interfaces and Interphases
Carbon/Carbons and Their Industrial Applications
Melt Infi ltration Process
Chemical Vapor Infi ltration Processes for Ceramic Matrix Composites:
Manufacturing, Properties, Applications
The PIP-process: Precursor Properties and Applications
Oxide/Oxide Composites with Fiber Coatings
All-Oxide Ceramic Matrix Composites with Porous Matrices
Microstructural Modeling and Thermomechanical Properties
Non-destructive Testing Techniques for CMC Materials
Machining Aspects for the Drilling of C/C-SiC Materials
Advanced Joining and Integration Technologies for Ceramic Matrix
Composite Systems
CMC Materials for Space and Aeronautical Applications
CMC for Nuclear Applications
CMCs for Friction Applications

See More
Walter Krenkel holds the Chair of Ceramic Materials at the University of Bayreuth, Germany, where he also heads the Ceramic Composites Group at the Fraunhofer-Gesellschaft. He gained his PhD in aeronautics and aerospace from the University of Stuttgart, and was formerly Head of Ceramic Composite Structures and of the Center of Excellence Lightweight CMC Structures at the German Aerospace Center. He is a Fellow of the American Ceramic Society, and serves on the scientific and advisory boards of many international conferences, workshops and technology exchange forums worldwide.
Professor Krenkel`s research focuses on the development
and qualification of CMCs and other novel ceramics.
See More