E-book
Chronic Pain: A Health Policy Perspective
ISBN: 978-3-527-62265-8
304 pages
September 2008, Wiley-Blackwell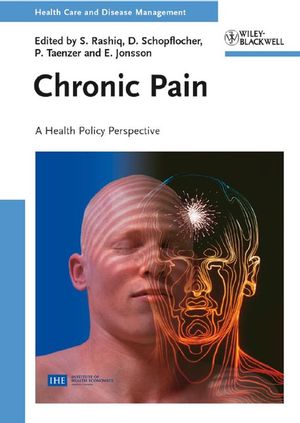 Discussing all aspects of chronic pain management, this is the second volume of the new book series on health care and disease management, published with the Institute of Health Economics (IHE) in Edmonton, Canada.
The authors provide an introduction into history, pathophysiology, ethics and epidemiology of chronic pain before covering the different aspects of treating chronic pain in more detail. Different ways for improving pain management as well as policy implications are highlighted.
The title is targeted towards clinicians and professionals in the health care industry dealing with chronic pain.
See More
CONTEXT
The Lived Experience of Chronic Pain: Evidence of People's Voices
History and Definition of Chronic Pain
The Descriptive Epidemiology of Chronic Pain
The Economics of Chronic Pain
Ethical Considerations in the Treatment of Chronic Pain
The Pathophysiology of Chronic Pain
TREATMENT
Why Pain Becomes Chronic
What Chronic Pain Looks Like to Clinicians
Drug Treatments for Chronic Pain
Non-Drug Treatments for Chronic Pain
Interventional Treatments for Chronic Pain
Multidisciplinary Pain Clinics
Complementary and Alternative Medicine Approaches to Chronic Pain
Self-Management for Chronic Pain
SPECIAL CHALLENGES IN CHRONIC PAIN MANAGEMENT
Chronic Pain in Persons with Mental Health Issues
Chronic Pain in Injured Workers
Chronic Pain and Addictions
Chronic Pain in Children
Chronic Pain in Elderly Persons
Chronic Pain in Indigenous Populations
HEALTH SYSTEMS AND CHRONIC PAIN MANAGEMENT
Mass Media Campaigns for the Prevention of Back Pain Related Disability
Improving Pain Management Education
The Alberta Chronic Pain Ambassador Program
Organizing Health Systems for Successful Pain Management
Chronic Pain Management: The Quebec Experience
See More
Paul Taenzer is the co-founder of the Calgary Health Region Chronic Pain Centre and presently leads their evaluation team. He is the co-principal investigator of the Alberta HTA Chronic Pain Ambassador Project and serves as the treasurer of the Canadian Pain Society. He received his undergraduate and graduate degrees from McGill University and has worked as a clinician and research in Calgary for most of his career.

Saifudin Rashiq is an academic anesthesiologist, and director of the Multidisciplinary Pain Centre at the University of Alberta Hospitals in Edmonton, Alberta. He obtained his medical degree from University of Nottingham, UK and was a Fellow in Pain Medicine at the University of Washington's Multidisciplinary Pain Centre in Seattle His research interests include the use of opioid analgesics in chronic non-cancer pain, functional and quality of life measurements in chronic pain states and the epidemiology of chronic pain.

Donald Schopflocher trained initially as a research Psychologist, and worked from 1995 as a biostatistician in the Alberta government Health and Wellness Ministry. There he managed health survey data analysis and analyzed large administrative datasets for Health Surveillance purposes. He is now associate professor in the Faculty of Nursing School of Public Health at the University of Alberta, and a Fellow of the Institute of Health Economics.

Dr. Jonsson is director and CEO of the Institute of Health Economics, and professor at the University of Alberta, Public Health Sciences. For 20 years he was a professor of Health Economics at the Karolinska Institute, Stockholm, Sweden. Dr. Jonsson was also director of the Swedish Council on Health Technology Assessment (SBU), worked for WHO Euro, was a Health Policy Advisor at the Ministry of Health in Hanoi, Vietnam. His main field of research has been in health economics: cost-effectiveness analysis, and health technology assessment. Jonsson has co-edited 2 well-selling Wiley-VCH titles during his SBU times, "Treating and Preventing Obesity" and "Treating Alcohol and Drug Abuse".
See More
More in this series