E-book
Applied Adhesive Bonding: A Practical Guide for Flawless Results
ISBN: 978-3-527-62646-5
186 pages
December 2008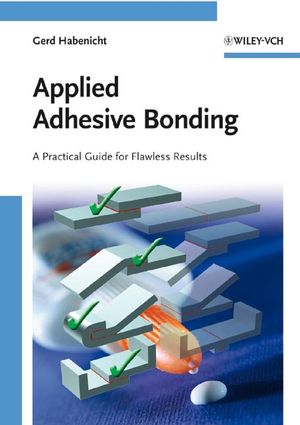 This manual provides the most important information on successful bonding. Various practical advices and helpful tips are useful for the handling of adhesives. Due to its didactically structured content, the book may also serve as a medium for training courses in bonding engineering. The basics of this innovative joining procedure are described in a practical and easily understandable way suitable for the application in trade and industry.
See More
INTRODUCTION
Bonding as a Joining Process
Advantages and Disadvantages of Bonding
Terms and Definitions
STRUCTURE AND CLASSIFICATION OF ADHESIVES
Structure of Adhesives
Classification of Adhesives
FROM ADHESIVE TO ADHESIVE LAYER
Reactive Adhesives -
Fundamentals
Two-Component and One-Component Reactive Adhesives
Properties of Adhesive Layers
IMPORTANT REACTIVE ADHESIVES
Epoxy Resin Adhesives
Polyurethane (PUR) Adhesives
Acrylic Adhesives
Unsaturated Polyester Resins (UP-Resins)
Phenolic Adhesives
Silicones
Summary Reactive Adhesives
Film Adhesives
Sealing Materials
Polymer Mortars
PHYSICALLY SETTING ADHESIVES
Hot-Melt Adhesives
Solvent-Based Adhesives
Contact Adhesives
Plastisols
Pressure-Sensitive Adhesives, Adhesive Tapes
Adhesive Strips
Glue Sticks
Adhesives Based on Natural Raw Materials
Adhesives on an Inorganic Basis
ADHESIVE FORCES IN BONDED JOINTS
Adhesive Forces Between Adhesive Layer and Adherend (Adhesion)
Wetting
Surface Tension
Adhesive Forces Inside an Adhesive Layer (Cohesion)
PRODUCTION OF BONDED JOINTS
Surface Treatment
Adhesive Processing
Repair Bonding
Mistake Possibilities in Bonding and Remedial Actions
Safety Measures in Adhesive Processing
Quality Assurance
Adhesive-Bonding Training
ADHESIVE SELECTION
Preliminary Notes
Determining Factors for the Selection of Adhesives
Selection Criteria
ADHESIVE PROPERTIES OF IMPORTANT MATERIALS
Metals
Plastics
Glass
Rubber Products
Wood and Wood Products
Porous Materials
STRENGTH, CALCULATION AND TESTING OF BONDED JOINTS
The Term "Strength"
Test Methods
Elastic Bonding
Shaft-to-Hub Joints
CONSTRUCTIVE DESIGN OF BONDED JOINTS
A SELECTION OF COMMON TERMS IN BONDING TECHNOLOGY
See More
Gerd Habenicht studied chemistry, following 16 years as General Manager Research and Development and later member of the board in a globally active company.
From 1976 to 1998 he was professor and headed the chair of Joining Technology (welding, soldering, adhesive bonding) in the Faculty of Machinery Building at the Technical University of Munchen, Germany. Today he is active as consultant and is both author and editor of several publications on the topic of joining.
See More