E-book
Zeolites and Catalysis: Synthesis, Reactions and Applications
ISBN: 978-3-527-63030-1
1056 pages
May 2010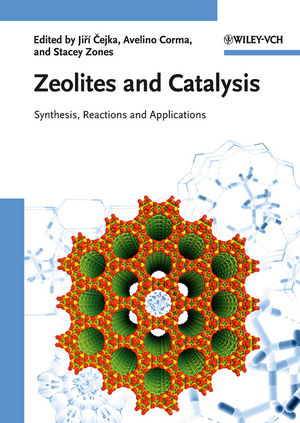 This indispensable two-volume handbook covers everything on this hot research field. The first part deals with the synthesis, modification, characterization and application of catalytic active zeolites, while the second focuses on such reaction types as cracking, hydrocracking, isomerization, reforming and other industrially important topics.
Edited by a highly experienced and internationally renowned team with chapters written by the "Who's Who" of zeolite research.
See More
Volume 1.
Preface.
List of Contributors.
1 Synthesis Mechanism: Crystal Growth and Nucleation (Pablo Cubillas and Michael W. Anderson).
1.1 Introduction.
1.2 Theory of Nucleation and Growth.
1.3 Nucleation and Growth in Zeolites.
1.4 Techniques.
1.5 Case Studies.
1.6 Conclusions and Outlook.
References.
2 Synthesis Approaches (Karl G. Strohmaier).
2.1 Introduction.
2.2 Aluminophosphates.
2.3 Mineralizers.
2.4 Dry Gel Conversion Syntheses.
2.5 Low Water Syntheses.
2.6 Germanium Zeolites.
2.7 Isomorphous Substitution.
2.8 Structure-Directing Agents.
2.9 SDA Modeling.
2.10 Co-templating.
2.11 Layered Precursors.
2.12 Nonaqueous Solvents.
2.13 Summary and Outlook.
Acknowledgments.
3 Ionothermal Synthesis of Zeolites and Other Porous Materials (Russell E. Morris).
3.1 Introduction.
3.2 Hydrothermal, Solvothermal, and Ionothermal Synthesis.
3.3 Ionothermal Aluminophosphate Synthesis.
3.4 Ionothermal Synthesis of Silica-Based Zeolites.
3.5 Ionothermal Synthesis of Metal Organic Frameworks and Coordination Polymers.
3.6 Ambient Pressure Ionothermal Synthesis.
3.7 The Role of Cation-Templating, Co-Templating, or No Templating.
3.8 The Role of the Anion – Structure Induction.
3.9 The Role of Water and Other Mineralizers.
3.10 Unstable Ionic Liquids.
3.11 Summary and Outlook.
4 Co-Templates in Synthesis of Zeolites (Joaquin Perez-Pariente, Raquel Garcıa, Luis Gomez-Hortiguela, and Ana Belen Pinar).
4.1 Introduction.
4.2 Templating of Dual-Void Structures.
4.3 Crystallization of Aluminophosphate-Type Materials.
4.4 Combined Use of Templating and Pore-Filling Agents.
4.5 Cooperative Structure-Directing Effects of Organic Molecules and Mineralizing Anions.
4.6 Cooperative Structure-Directing Effect of Organic Molecules and Water.
4.7 Control of Crystal Size and Morphology.
4.8 Membrane Systems.
4.9 Use of Co-Templates for Tailoring the Catalytic Activity of Microporous Materials.
4.10 Summary and Outlook.
5 Morphological Synthesis of Zeolites (Sang-Eon Park and Nanzhe Jiang).
5.1 Introduction.
5.2 Morphology of Large Zeolite Crystals.
5.3 Morphology Control of MFI Zeolite Particles (of Size Less than 100 μm).
5.4 Morphological Synthesis by MW.
5.5 Summary and Outlook.
6 Post-synthetic Treatment and Modification of Zeolites (Cong-Yan Chen and Stacey I. Zones).
6.1 Introduction.
6.2 Direct Synthesis of Zeolites.
6.3 Post-synthetic Treatment and Modification of Zeolites.
6.4 Summary and Outlook.
7 Structural Chemistry of Zeolites (Paul A. Wright and Gordon M. Pearce).
7.1 Introduction.
7.2 Zeolite Structure Types Exemplified by Those Based on the Sodalite Cage.
7.3 The Expanding Library of Zeolite Structures: Novel Structures, Novel Features.
7.4 Summary and Outlook.
8 Vibrational Spectroscopy and Related In situ Studies of Catalytic Reactions Within Molecular Sieves (Eli Stavitski and Bert M. Weckhuysen).
8.1 Introduction.
8.2 Acidity Determination with IR Spectroscopy of Probe Molecules.
8.3 Zeolite Synthesis Processes.
8.4 Selection of Zeolite-Based Catalytic Reactions.
8.4.1 Catalytic Decomposition of Nitric Oxides.
8.4.2 Methanol-to-Olefin Conversion.
8.5 IR Microspectroscopy.
8.6 Concluding Remarks and Look into the Future.
9 Textural Characterization of Mesoporous Zeolites (Lei Zhang, Adri N.C. van Laak, Petra E. de Jongh, and Krijn P. de Jong).
9.1 Introduction.
9.2 Methods for Generating Meso- and Macropores in Zeolites.
9.3 Characterization of Textural Properties of Mesoporous Zeolites.
9.4 Summary and Outlook.
10 Aluminum in Zeolites: Where is it and What is its Structure? (Jeroen A. van Bokhoven and Nadiya Danilina).
10.1 Introduction.
10.2 Structure of Aluminum Species in Zeolites.
10.3 Where is the Aluminum in Zeolite Crystals?
10.4 Summary and Outlook.
11 Theoretical Chemistry of Zeolite Reactivity (Evgeny A. Pidko and Rutger A. van Santen).
11.1 Introduction.
11.2 Methodology.
11.3 Activation of Hydrocarbons in Zeolites: The Role of Dispersion Interactions.
11.4 Molecular-Level Understanding of Complex Catalytic Reactions: MTO Process.
11.5 Molecular Recognition and Confinement-Driven Reactivity.
11.6 Structural Properties of Zeolites: Framework Al Distribution and Structure and Charge Compensation of Extra-framework Cations.
11.7 Summary and Outlook.
12 Modeling of Transport and Accessibility in Zeolites (Sofıa Calero Diaz).
12.1 Introduction.
12.2 Molecular Models.
12.3 Simulation Methods.
12.4 Molecular Modeling Applied to Processes Involving Zeolites.
12.5 Summary and Outlook.
13 Diffusion in Zeolites – Impact on Catalysis (Johan van den Bergh, Jorge Gascon, and Freek Kapteijn).
13.1 Introduction.
13.2 Diffusion and Reaction in Zeolites: Basic Concepts.
13.3 Diffusion in Zeolites: Potential Issues.
13.4 Pore Structure, Diffusion, and Activity at the Subcrystal Level.
13.5 Improving Transport through Zeolite Crystals.
13.6 Concluding Remarks and Future Outlook.
Volume 2.
14 Special Applications of Zeolites (Vıctor Sebastian, Clara Casado, and Joaquın Coronas).
15 Organization of Zeolite Microcrystals (Kyung Byung Yoon).
16 Industrial Potential of Zeolites (Giuseppe Bellussi, Angela Carati, and Roberto Millini).
17 Catalytically Active Sites: Generation and Characterization (Michael Hunger).
18 Cracking and Hydrocracking (Marcello Rigutto).
19 Reforming and Upgrading of Diesel Fractions (Carlo Perego, Vincenzo Calemma, and Paolo Pollesel).
20 Recent Development in Transformations of Aromatic Hydrocarbons over Zeolites (Sulaiman Al-Khattaf, Mohammad Ashraf Ali, and Jirı Cejka).
21 Advanced Catalysts Based on Micro- and Mesoporous Molecular Sieves for the Conversion of Natural Gas to Fuels and Chemicals (Agustın Martınez, Gonzalo Prieto, Andres Garcıa-Trenco, and Ernest Peris).
22 Methanol to Olefins (MTO) and Methanol to Gasoline (MTG) (Michael Stocker).
23 Metals in Zeolites for Oxidation Catalysis (Takashi Tatsumi).
24 Environmental Catalysis over Zeolites (Gabriele Centi and Siglinda Perathoner).
25 Zeolites as Catalysts for the Synthesis of Fine Chemicals (Maria J. Climent, Avelino Corma, and Sara Iborra).
26 Zeolites and Molecular Sieves in Fuel Cell Applications (King Lun Yeung and Wei Han).
Index.
See More
Prof. AVELINO CORMA was born in Moncofar, Spain in 1951. He studied Chemistry at the Universidad de Valencia (1967-1973), and received his Ph.D. at the Universidad Complutense de Madrid in 1976. He was a Postdoctoral researcher in the Department of chemical engineering at the Queen?s University (Canada, 1977-79). Prof. Corma is the director of the Instituto de Tecnologia Quimica (UPV-CSIC) at the Universidad Politecnica de Valencia since 1990. His current research field is catalysis, and molecular sieves covering aspects of synthesis, characterization and reactivity in acid-base and redox catalysis. Avelino Corma is co-author of more than 700 articles and 100 patents on these subjects.

Prof. JIRI CEJKA was born in Roudnice nad Labem, former Czechoslovakia, in 1960. He studied at the Institute of Chemical Technology in Prague and received his Ph.D. at the J. Heyrovsky Institute of Physical Chemistry and Electrochemistry in Prague in 1988. At present he is a head of the Department of Synthesis and Catalysis at J. Heyrovsky Institute of Physical Chemistry in Prague and lecturer at the Faculty of Natural Sciences of Charles University in Prague. In 2005 he chaired the 3rd FEZA Conference on Zeolites in Prague. His research interests comprise: synthesis of zeolites, mesoporous and novel nano-structured materials, physical chemistry of sorption and catalysis, and investigation of the role of porous catalysts in transformations of hydrocarbons and their derivatives. Jiri Cejka is co-author of about 200 research papers and co-editor of 5 books.

Dr. STACEY I. ZONES is a Research Fellow at Chevron's Energy and Technology Center in Richmond, CA, USA. He is the senior researcher in a group which strives to invent and explore newer zeolites and then follow through in finding applications for their use, ways to tailor their properties and methods to develop more econmical routes to introduce them into the commercial world. The group also looks for novel applications of zeolites in emerging technologies. Dr. Zones has been a co-inventor on more than 100 patents and a co-author on more than 100 journal publications. He has also been a frequent speaker and participant in the zeolite conferences around the world, and is a mentoring collaborator for elements of zeolite research programs at several universities.

See More