E-book
Semiconductor Disk Lasers: Physics and Technology
ISBN: 978-3-527-63040-0
330 pages
March 2010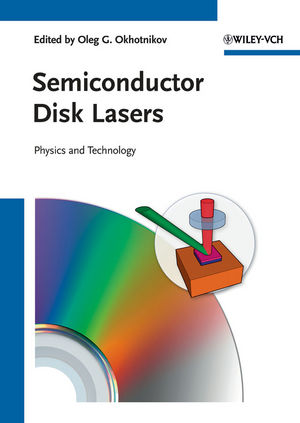 This timely publication presents a review of the most recent developments in the field of Semiconductor Disk Lasers. Covering a wide range of key topics, such as operating principles, thermal management, nonlinear frequency conversion, semiconductor materials, short pulse generation, electrical pumping, and laser applications, the book provides readers with a comprehensive account of the fundamentals and latest advances in this rich and diverse field.
In so doing, it brings together contributions from world experts at major collaborative research centers in Europe and the USA. Each chapter includes a tutorial style introduction to the selected topic suitable for postgraduate students and scientists with a basic background in optics - making it of interest to a wide range of scientists, researchers, engineers and physicists working and interested in this rapidly developing field. It will also serve as additional reading for students in the field.
See More
1. VECSEL Semiconductor Lasers: A Path to High-Power, Quality Beam, and UV to IR Wavelength by Design
2. Thermal Management, Structure Design, and Integration Considerations for VECSELs
3. Red Semiconductor Disk Lasers by Intracavity Frequency Conversion
4. Long-Wavelength GaSb Disk Lasers
5. Semiconductor Disk Lasers based on Quantum Dots
6. Mode-locked Semiconductor Disk Lasers
7. External-Cavity Surface-Emitting Diode Lasers

See More
Oleg G. OKHOTNIKOV received his Ph.D. (1981) and D.Sc. (1992) from the Russian Academy of Sciences both in Laser Physics. Since 1999 he has been a full-time Professor at the Optoelectronics Research Centre, Tampere University of Technology, Finland. His experimental background includes mode-locked and single-frequency tuneable semiconductor and fibre lasers. He has a substantial experience in advanced diode-pumped fibre lasers and amplifiers, spectroscopy of rare-earth laser materials, and semiconductor lasers. Other research topics include semiconductor disk lasers and photonic band gap structures. He has published more than 170 journal papers, 130 conference presentations and holds six patents.
See More