E-book
White Dwarf Atmospheres and Circumstellar Environments
ISBN: 978-3-527-63658-7
244 pages
September 2012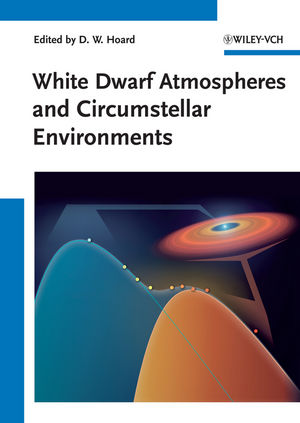 Written by selected astronomers at the forefront of their fields, this timely and novel book compiles the latest results from research on white dwarf stars, complementing existing literature by focusing on fascinating new developments in our understanding of the atmospheric and circumstellar environments of these stellar remnants. Complete with a thorough refresher on the observational characteristics and physical basis for white dwarf classification, this is a must-have resource for researchers interested in the late stages of stellar evolution, circumstellar dust and nebulae, and the future of our own Solar System.
See More
1. Hot White Dwarfs
2. Cool White Dwarfs
3. Stars with Unusual Compositions: Carbon and Oxygen in Cool White Dwarfs
4. Planets orbiting White Dwarfs
5. White Dwarf Circumstellar Disks: Observations
6. The Origin and Evolution of White Dwarf Dust Disks
7. Planetary Nebulae around White Dwarfs: Revelations from the Infrared
See More
D. W. Hoard, after earning his Ph.D. at the University of Washington, worked at Cerro Tololo Inter-American Observatory in Chile, the southern hemisphere branch of the United States? National Optical Astronomy Observatory. In 2002, he joined NASA?s Spitzer Science Center, part of the Infrared Processing and Analysis Center (IPAC) at the California Institute of Technology. He is an IPAC Research Scientist and, among other activities, a member of the Spitzer Space Telescope Science User Support Team. His research focuses on white dwarfs and their environments. He has published more than 80 reviewed papers in refereed journals.
See More