E-book
Zooming in: The Cosmos at High Resolution
ISBN: 978-3-527-64439-1
276 pages
October 2013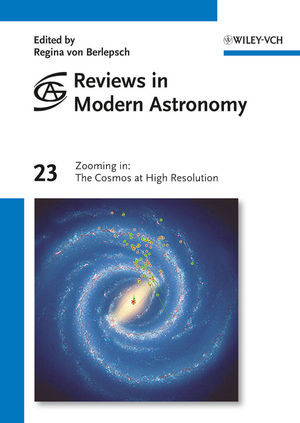 This 23nd volume in the series contains 15 invited reviews presented during the conference AG2010: "Zooming in, the cosmos at high resolution"
See More
Karl Schwarzschild Lecture:
The Road to Earth Twins
By Michel Mayor, Christophe Lovis, Francesco Pepe, Damien Sègransan and Stèphane Udry
(With 4 Figures) 1
Ludwig Biermann Award Lecture: Stellar Forensics with the Supernova-GRB Connection
ByMaryamModjaz (With 5 Figures) 11
Doctoral Thesis Award Lecture: Accretion, jets and winds: High-energy emission from young stellar objects
By HansMoritz Günther (With 8 Figures) 37
The physics and astrophysics of supernova explosions
By Wolfgang Hillebrandt (With 7 Figures) 61
The Facility for Antiproton and Ion Research.
A new era for supernova dynamics and nucleosynthesis
By Karlheinz Langanke (With 15 Figures) 83
The Bar and Spiral Structure Legacy (BeSSeL) survey: Mapping the MilkyWay with VLBI astrometry
By Andreas Brunthaler, Mark J. Reid, Karl M. Menten, Xing-Wu Zheng, Anna Bartkiewicz, Yoon K. Choi, Tom Dame, Kazuya Hachisuka, Katharina Immer, George Moellenbrock, Luca Moscadelli, Kazi L.J. Rygl, Alberto Sanna, Mayumi Sato, Yuanwei Wu, Ye Xu, and Bo Zhang
(With 2 Figures) 105
On the origin of gaseous galaxy halos – Low-column density gas in the Milky Way halo
By Nadya Ben Bekhti, Benjamin Winkel, Philipp Richter, Jürgen Kerp, and Ulrich Klein
(With 6 Figures) 117
Radio studies of galaxy formation: Dense Gas History of the Universe
By Chris L. Carilli, Fabian Walter, Dominik Riechers, Ran Wang, Emanuele Daddi, and Jeff Wagg, Frank Bertoldi, and KarlMenten (With 21 Figures)  131
Water in star-forming regions with Herschel
By Lars E. Kristensen and Ewine F. van Dishoeck
(With 6 Figures) 159
Light-element abundance variations in globular clusters
By Sarah L.Martell  173
Massive black holes and the evolution of galaxies
By Marta Volonteri and Jillian Bellovary
(With 6 Figures) 189
High-energy astrophysics
ByMartin Pohl (With 7 Figures)  207
Star formation at High Resolution, Zooming into the Carina nebula, the nearest laboratory of massive Star feedback
By Thomas Preibisch (With 2 Figures)  223
Characteristic structures in circumstellar disks – Potential indicators of embedded planets
By Sebastian Wolf  237
Index of Contributors   243
General Table of Contents 245
General Index of Contributors   260
See More
Regina v. Berlepsch studied Physics at the Friedrich Schiller University in Jena. After finishing her studies, she worked as scientific assistant at the central institute for astrophysics (ZIAP) in Potsdam.
Since 1992, she is leading the scientific documentation center of the Astrophysical Institute in Potsdam (AIP).
See More