E-book
Stretchable Electronics
ISBN: 978-3-527-64700-2
484 pages
November 2012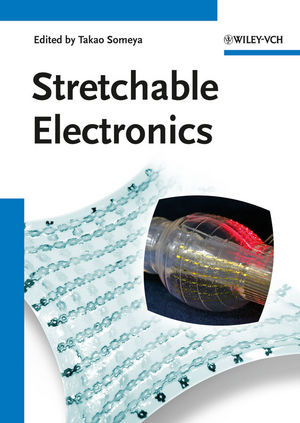 On a daily basis, our requirements for technology become more innovative and creative and the field of electronics is helping to lead the
way to more advanced appliances. This book gathers and evaluates the materials, designs, models, and technologies that enable the fabrication of fully elastic electronic devices that can tolerate high strain. Written by some of the most outstanding scientists in the field, it lays down the undisputed knowledge on how to make electronics withstand stretching. This monograph provides a review of the specific applications that directly benefit from highly compliant electronics, including transistors, photonic devices, and sensors. In addition to stretchable devices, the topic of ultraflexible electronics is treated, highlighting its upcoming significance for the industrial-scale production of electronic goods for the consumer.

Divided into four parts covering:

* Theory
* Materials and Processes
* Circuit Boards
* Devices and Applications

An unprecedented overview of this thriving area of research that nobody in the field - or intending to enter it - can afford to miss.

See More
PREFACE

PART I: Theory

THEORY FOR STRETCHABLE INTERCONNECTS
Introduction
Mechanics of Stretchable Wavy Ribbons
Mechanics of Popup Structure
Mechanics of Interconnects in the Noncoplanar Mesh Design
Concluding Remarks

MECHANICS OF TWISTABLE ELECTRONICS
Introduction
Postbuckling Theory
Postbuckling of Interconnect under Twist
Symmetric Buckling Mode
Antisymmetric Buckling Mode
Discussion and Concluding Remarks

PART II: Materials and Processes

GRAPHENE FOR STRETCHABLE ELECTRONICS
Introduction
Production of Graphene Films
Fabrication of Graphene Films on Substrates
Applications in Flexible and Stretchable Electronics
Concluding Remarks

STRETCHABLE THIN-FILM ELECTRONICS
Introduction
Silicone Rubber as a Substrate
Mechanical Architecture
Stretchable Metallization
Integrated Stretchable Thin-Film Devices
Outlook

STRETCHABLE PIEZOELECTRIC NANORIBBONS FOR BIOCOMPATIBLE ENERGY HARVESTING
Energy Harvesting and Piezoelectric Materials
PZT Nanofabrication and Interfacing with Stretchable Substrates
Piezoelectric Characterization and Electrical Measurements
Summary

PART III: Circuit Boards

MODELING OF PRINTED CIRCUIT BOARD INSPIRED STRETCHABLE ELECTRONIC SYSTEMS
Technology Development Considerations
Modeling and Simulation

MATERIALS FOR STRETCHABLE ELECTRONICS COMPLIANT WITH PRINTED CIRCUIT BOARD FABRICATION
Introduction

TECHNOLOGIES AND PROCESSES USED IN PRINTED CIRCUIT BOARD FABRICATION FOR THE REALIZATION OF STRETCHABLE ELECTRONICS
Lamination Technology
Molding Technology

RELIABILITY AND APPLICATION SCENARIOS OF STRETCHABLE ELECTRONICS REALIZED USING PRINTED CIRCUIT BOARD TECHNOLOGIES
Application Considerations
Reliability
Application Scenarios

PART IV: Devices and Applications

STRETCHABLE ELECTRONIC AND OPTOELECTRONIC DEVICES USING SINGLE-CRYSTAL INORGANIC SEMICONDUCTOR MATERIALS
Introduction
Stretchable Circuits
Application of Stretchable Designs to Microscale Inorganic Light Emitting Diodes (?-ILEDs)
Biomedical Applications of Stretchable Electronics and Optoelectronics
Stretchable Digital Imagers and Solar Modules
Conclusions

STRETCHABLE ORGANIC TRANSISTORS
Introduction
Perforated Organic Transistor Active Matrix for Large-Area, Stretchable Sensors
Rubber-Like Stretchable Organic Transistor Active Matrix Using Elastic Conductors
Rubber-Like Organic Transistor Active Matrix Organic Light-Emitting Diode Display
Future Prospects

POWER SUPPLY, GENERATION, AND STORAGE IN STRETCHABLE ELECTRONICS
Introduction
Radio Frequency Power Supplies
Power Generation
Power Storage
Summary

SOFT ACTUATORS
Introduction
Conducting Polymers
Ionic Polymer Metal Composites (IPMCs)
Nanocarbon Actuators
Applications
Conclusion

ELASTOMER-BASED PRESSURE AND STRAIN SENSORS
Introduction
A Brief Elastomers Overview
Important Sensor Characteristics
Elastomeric Force Sensors
Active Pressure/Strain Sensors Systems
Applications
Outlook

CONFORMABLE ACTIVE DEVICES
Introduction
Printing Processes for Organic TFTs
Sensing and Memory Devices Based on Piezoelectric Polymer
Electronic Circuits
Curved Conformal Devices by a Cut-and-Bend Approach
Summary

STRETCHABLE NEURAL INTERFACES
Introduction
Overview of MEAs
Classes of SMEAs
Common Limitations for All SMEAs
Future Directions in Stretchable Neural Interfaces
Conclusion

BIO-BASED MATERIALS AS TEMPLATES FOR ELECTRONIC DEVICES
Introduction
Polysaccharide-Based Templates
Protein-Based Templates
DNA Templates
Virus Templates: Tobacco Mosaic Virus and M13 Bacteriophage
Summary

ORGANIC INTEGRATED CIRCUITS FOR EMI MEASUREMENT
Introduction
Stretchable EMI Measurement Sheet
Silicon CMOS LSI for EMI Detection
Experimental Results and Discussion
Conclusion

INDEX

See More
Takao Someya is Professor in the Department of Electrical and Electronic Engineering at the University of Tokyo, Japan. From 2001 to 2003, he worked at the Nanocenter of Columbia University, USA, and Bell Labs, Lucent Technologies, as a Visiting Scholar. His current research interests include organic transistors, flexible electronics, plastic integrated circuits, large-area sensors, and plastic actuators. Takao Someya has received a number of awards including the Japan Society for the Promotion of Science Prize, the first prize of the newly established German Innovation Award, the 2004 IEEE/ISSCC Sugano Award, and the 2009 IEEE Paul Rappaport Award.
See More