E-book
Pulsating Stars
ISBN: 978-3-527-65520-5
472 pages
February 2015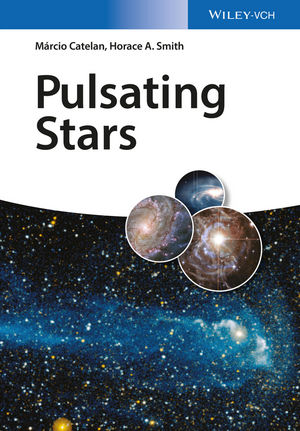 This book surveys our understanding of stars which change in brightness because they pulsate. Pulsating variable stars are keys to distance scales inside and beyond the Milky Way galaxy. They test our understanding not only of stellar pulsation theory but also of stellar structure and evolution theory. Moreover, pulsating stars are important probes of the formation and evolution of our own and neighboring galaxies. Our understanding of pulsating stars has greatly increased in recent years as large-scale surveys of pulsating stars in the Milky Way and other Local Group galaxies have provided a wealth of new observations and as space-based instruments have studied particular pulsating stars in unprecedented detail.
See More
Preface
HISTORICAL OVERVIEW
Discovery of the First Pulsating Variable Stars
The Recognition of Pulsation as a Cause of Variability
FUNDAMENTALS OF STELLAR VARIABILITY OBSERVATIONS
Definitions
Photometric Bandpasses
Period Determination
Common Observational Techniques
Space-Based Versus Ground Observations
CLASSIFICATION OF VARIABLE STARS
Regular, Semi-Regular, and Irregular Variables
Variability: Intrinsic and/or Extrinsic
Extrinsic Variables
Intrinsic Variables
STELLAR STRUCTURE AND EVOLUTION THEORY
The Basic Equations of Stellar Structure and Evolution
The Evolution of Low-Mass Stars
The Evolution of Intermediate-Mass Stars
The Evolution of High-Mass Stars
STELLAR PULSATION THEORY
Timescales
Ritter's (Period-Mean Density) Relation
Basic Equations of (Radial) Stellar Pulsation Theory
Linearization of the Stellar Pulsation Equations
Linear Adiabatic Oscillations: The LAWE
Eigenvalues and Eigenfunctions of the LAWE
Non-Adiabatic Theory: Conditions for Stability
The Linear Non-Adiabatic Wave Equation
Driving Mechanism
Stability Conditions and Instability Strip Edges
Non-Radial Pulsations
Nonlinear Effects
RR LYRAE STARS
RR Lyrae Stars as a Class of Pulsating Variable Star
RR Lyrae Stars as Standard Candles
Evolution of RR Lyrae Stars
Pulsation
The Blazhko Effect
RR Lyrae Stars in Globular Clusters
The Oosterhoff Groups
Period Changes
RR Lyrae Stars beyond the Milky Way
CEPHEID AND RELATED VARIABLE STARS
Classical Cepheids
Type II Cepheids
BL Boo Stars or Anormalous Cepheids
RV Tauri Stars
RED VARIABLE STARS
Convection and Pulsation
Mira and Related Long-Period Variables
Semi-Regular Variables
Irregular Variables
PULSATING STARS CLOSE TO THE LOWER MAIN SEQUENCE IN THE H-R DIAGRAM
Delta Scuti and SX Phoenicis Stars
Gamma Doradus Stars
roAp Stars
PULSATING STARS CLOSE TO THE UPPER MAIN SEQUENCE IN THE H-R DIAGRAM
Beta Cephei Stars
SPB (53 Per) Stars
PULSATING SUPERGIANT STARS
SPBsg Variables
PV Telescopii, V652 Herculis, and R CrB Stars
Alpha Cygni, S Dor, and Wolf-Rayet Stars
HOT SUBDWARF PULSATORS
EC 14026 (V361 Hya, sdBV, sdBVp, sdBVr) Variables
PG 1716+426 (V1093 Her, "Betsy", sdBVg, sdBVs) Variables
sdOV (V499 Ser) Variables
He-sdBV Stars
PULSATING DEGENERATE STARS
GW Vir Stars
DBV (V777 Her) Stars
DQV Stars
DAV Stars
ELM-HeV Stars
GW Librae Stars: Accreting WD Pulsators
Pulsations in Neutron Stars and Black Holes
Glossary
Index
See More
Marcio Catelan holds a full professorship at the Catholic University of Chile. Previous assignments were with the University of Virginia and with NASA's Goddard Space Flight Center. He is the author of over 130 journal papers and numerous review articles, and presents an impressive record of institutional service and awards, including Hubble and Guggenheim fellowships.

Horace Smith is Professor Emeritus in the Department of Physics and Astronomy at Michigan State University. He received his Master's degree and PhD from Yale and his research is focused on variable stars and what we can learn from them about the evolution of stars and galaxies. He has published extensively in astronomical journals and is the author of a book on RR Lyrae stars. He has served on numerous scientific committees and as a reviewer for several astronomical journals.

See More