E-book
Die neuen Verkäufer: Werden Sie zum Top Selling Professional, 2nd Edition
ISBN: 978-3-527-66478-8
255 pages
November 2012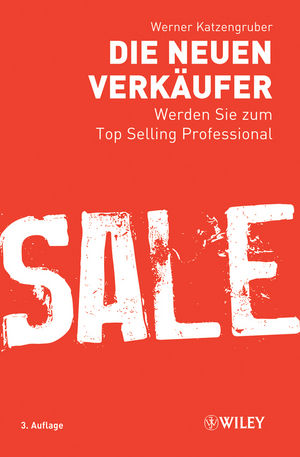 The markets are saturated and the products increasingly uniform. A new, hypercritical and more demanding generation of customers has arrived. A salesperson increasingly has to advise and consult, while negotiations are becoming more complex. It is against this backdrop that a new type of salesperson has emerged - the top selling professional. These salespeople know that only optimal planning and negotiation expertise can lead to long-term success in selling. They have studied psychology, are excellent communicators and good strategists. They know how to best use their active selling time and generate the largest possible success.

Werner Katzengruber's book proffers a holistic view of the topic, pointing out the chances and risks, prerequisites and tools for a new era in selling. In so doing, he attaches the same importance to the latest results from psychology as to the trends resulting, for example, from globalization and electronic media. He elucidates profound scientific knowledge in a practical manner, concisely, clearly and lucidly.

Topics covered: Mega-trends in our selling world; Developing a personal sales strategy; Optimizing one's own sales processes; Negotiation strategies for a Top Selling Professional; Mastering discussions of price.
See More
Einleitung zur Neuauflage 11
Wenn Sie wissen wollen, was in dem Buch steht, das Sie gerade in denHänden halten... 16
Hardware 17
Software 18
1 Einstimmung 21
Die Strategie des Erfolges 21
Der Lernprozess 28
Flexibilität als Erfolgsfaktor 31
2 Populäre Irrtümer zum Thema Verhandlung 35
Irrtum 1: Verhandeln Sie nach demWin-win-Prinzip 35
Irrtum 2: Brechen Sie Verhandlungen nie ab 38
Irrtum 3: Kommunizieren Sie immer explizit 42
Irrtum 4: Nennen Sie Ihre Ziele 47
Irrtum 5: Stellen Sie viele Fragen 49
Irrtum 6: Das Geschäft ist abgeschlossen, wenn der Verhandlungspartner einverstanden ist. 52
Irrtum 7:Menschen entscheiden rational 54
3 Planungskompetenz 63
Ihre persönliche Vertriebsstrategie: Aktivitäten versus Ergebnis 63
Das 4-Box-Modell zur aktivitätenorientierten Vertriebssteuerung 71
Der Sales Cycle im 4-Box-Modell 71
Die Dynamik des 4-Box-Modells 72
Zukünftige Bewertung des Vertriebserfolges 75
Die Strategiefalle: Rebuying versus New Sales 79
4 Vorbereitung auf die Verhandlung 85
Bekannte Verhandlungsstile 85
Die Phasen der Verhandlung 88
Faktoren der Entscheidungsfindung 93
Wertschöpfungsketten des Kunden 98
5 Verhandlungsstrategien eines Top Selling Professionals 101
Der Interaktionsprozess und seine Folgen 101
Der systematische Verhandlungsaufbau durch das S.A.L. E. S.-Modell 108
Die S-Phase des S.A.L. E.S.-Modells 110
Königliche Fragetechnik 114
Von der Vergangenheit zur Zukunft fragen – Bedarf entwickeln 125
Die fokussierte Fragetechnik 130
Die Akzeptanzphasen durch Aktives Zuhören gestalten 133
Die Argumentationsphase 146
Einwandbehandlung 153
Verbale und nonverbale Einwände annehmen 156
Techniken der Einwandbehandlung 158
Prozess der Einwandbehandlung 159
Machen Sie mir bitte ein Angebot ... 161
Die Preisverhandlung 164
Was ist ein Preis? 167
Drehen Sie den Spieß um 171
Was ist teuer? 175
Nennen Sie Ihren Preis zuerst 179
Von oben nach unten verhandeln 181
Grundsätze der Preisverhandlung 183
Wann ist eine Verhandlung erfolgreich? 193
6 Psychologie des Verhandelns 197
Reziprozität – wie du mir, so ich dir 197
Das Vergeltungsprinzip 200
Commitment und Verbindlichkeit 201
Soziale Bewährtheit 207
Attraktivität, Sympathie und daraus resultierende kognitive Verzerrungen 211
Freundschaft und Vertrauen 216
DieMagische 7 – dieMiller'sche Zahl 220
Einer für alle 224
Autorität 228
7 Typologie der Verhandlungsstile 233
Die unterschiedlichen Typologien und ihre Auswirkung in Verhandlungen 233
Verkäufer-/Kunden-Matrix 245
Bedenken Sie ... 251
Über den Autor 253
Zu guter Letzt 255
See More
Werner Katzengruber hat wahrend seines psychologischen und betriebswirtschaftlichen Studiums verschiedene therapeutische Ausbildungen abgeschlossen und wurde in den USA zum Coach und Personaldiagnostiker ausgebildet. Nach funf Jahren in einer internationalen Unternehmensberatung machte er sich 1997 selbststandig. Sein Unternehmen, die KHD-Group (www.khd-group.com) mit Sitz in Oberhaching bei Munchen, arbeitet in allen Bereichen des Human Capital Managements. Sein Team besteht aus hochqualifizierten Experten aus unterschiedlichen Disziplinen, deren Aufgabe ist, Unternehmen und deren Mitarbeiter zu befahigen, bestmogliche Ergebnisse zu erzielen. Die Kernaufgabe seines Unternehmens bezeichnet er in dem Slogan: "Creating Human Excellence". Werner Katzengruber ist als Gast in zahlreichen Fernsehsendungen, Radiointerviews und Gastbeitragen in Zeitschriften bekannt. Zu seinen Kunden zahlen namhafte Unternehmen, die ihn fur die Entwicklung effizienter Strategien zur Organisations- und Personalentwicklung engagieren. Er zahlt zu den profiliertesten Rednern und Seminarleitern. Seit 2004 ist er als Dozent an der renommierten Steinbeis-Hochschule in Berlin tatig.
See More