E-book
Das Ende der Nacht: Lichtsmog: Gefahren - Perspektiven - Lösungen, 2nd Edition
ISBN: 978-3-527-67488-6
232 pages
January 2014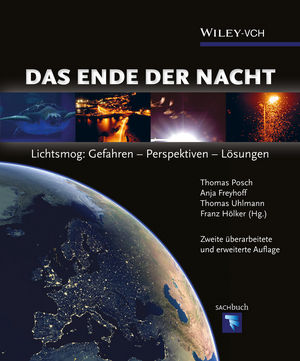 Every city dweller is aware that we are seeing fewer stars at night due to the increasing amount of artificial lighting. But that is just the tip of the iceberg, as far as the loss of natural nocturnal darkness is concerned. Humans and animals worldwide are now suffering from the disrupted rhythm of day and night due to extreme lighting at night. In humans this can lead to illness and increased stress. Hitherto only known to experts, this book is the first to comprehensively treat the entire phenomenon of light pollution.
Richly illustrated using unusual images taken from the TV documentation "The Dark Side of Light" by Anja Freyhoff and Thomas Uhlmann, this book is for anyone interested in a harmonious coexistence between humans and nature and a healthy work/life rhythm.

See More
1. Eine kurze Geschichte des Lichts;
Thomas Posch
2. Nacht und Kampf gegen die Nacht aus kulturhistorischer Perspektive;
Thomas Posch und Walter Seitter
3. Lichtverschmutzung in Mitteleuropa;
Andreas Hanel
4. Insekten und kunstliches Licht;
Gerhard Eisenbeis
5. Vogel und kunstliches Licht;
Ommo Huppop, Reinhard Klenke und Anja Nordt
6. Meeresschildkroten als Opfer der Strandbeleuchtung;Christin Borgwardt, Tony Tucker und Kristen Mazzarella
7. Mondlicht als naturlicher Zeitgeber fur die Meeresfauna;
Kristin Tessmar, Tobias Kaiser und Juliane Zantke
8. Der Einfluss von nachtlichem Kunstlichtauf Gewasserokosysteme;
Franz Holker und Klement Tockner
9. Licht auf die innere Uhr;
Christian Cajochen
10. Der Verlust der Nacht in der 24-Stunden-Gesellschaft;
Dietrich Henckel, Josiane Meier, Merle Pottharst, Florian Wukovitsch
See More
Thomas Posch ist Mitarbeiter der Universitatssternwarte Wien. Die Schwerpunkte seiner wissenschaftlichen Arbeit liegen auf den Gebieten der Erforschung des kosmischen Staubes, der Astronomiegeschichte sowie der Philosophie der Natur. Er ist intensiv in der Offentlichkeitsarbeit tatig und koordiniert fur Osterreich die Aktivitaten zum Internationalen Astronomiejahr 2009.

Franz Holker arbeitet als Gewasserokologe am Leibniz-Institut fur Gewasserokologie und Binnenfischerei und ist
Privatdozent an der FU Berlin. Nach einem zweijahrigen
Forschungsaufenthalt am JRC (Europaische Kommission) leitet er seit 2009 das interdisziplinare Verbundprojekt
"Verlust der Nacht". Seit 2012 ist er Leiter der internationalen COST-Aktion "Loss of the Night Network (LoNNe)".

Anja Freyhoff und Thomas Uhlmann sind Autoren und Regisseure fur Dokumentationen, die vor allem bei ARTE und ARD/ZDF ausgestrahlt werden. Bekannt sind die Filme uber Einstein oder zum Verhaltnis von Deutschen und Franzosen. Die einstundige Geo-Reportage uber das "Parlament der Kinder" im indischen Rajasthan wurde ausgezeichnet. Neben der Fernseharbeit sind sie als Produzenten und Regisseure fur Werbe- und Unternehmensfilme tatig.
See More