E-book
Soft Matter Nanotechnology: From Structure to Function
ISBN: 978-3-527-68216-4
456 pages
April 2015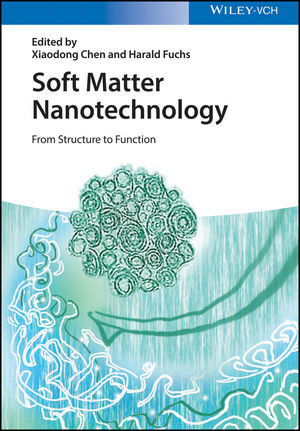 Using the well-honed tools of nanotechnology, this book presents breakthrough results in soft matter research, benefitting from the synergies between the chemistry, physics, biology, materials science, and engineering communities.
The team of international authors delves beyond mere structure-making and places the emphasis firmly on imparting functionality to soft nanomaterials with a focus on devices and applications. Alongside reviewing the current level of knowledge, they also put forward novel ideas to foster research and development in such expanding fields as nanobiotechnology and nanomedicine. As such, the book covers DNA-induced nanoparticle assembly, nanostructured substrates for circulating tumor cell capturing, and organic nano field effect transistors, as well as advanced dynamic gels and self-healing electronic nanodevices.
With its interdisciplinary approach this book gives readers a complete picture of nanotechnology with soft matter.
See More
#1 Chemical reactions for the synthesis of organic nanomaterials on surfaces
#2 Self-assembly of Organic Molecules into Nanostructures
#3 Supramolecular Nanotechnology: Soft Assembly of Hard Nanomaterials
#4 Nanoparticles: Important tools to overcome the blood-brain-barrier and their use for brain imaging
#5 Organic Nanophotonics: Controllable Assembly of Optofunctional Molecules towards Low-Dimensional Materials with Desired Photonic Properties
#6 Functional Lipid Assemblies by Dip-Pen Nanolithography and Polymer Pen Lithography
#7 PEG-Based Antigen Presenting Cell Surrogates for Immunological Applications
#8 Soft Matter Assembly for Atomic Precise Fabrication of Solid Oxides
#9 Conductive Polymer Nanostructures
#10 DNA-induced Nanoparticle Assembly
#11 Nanostructured Substrates for Circulating Tumor Cell Capturing
#12 Organic Nano Field Effect Transistor
#13 Advanced Dynamic Gels
#14 Micro/nano-crystal conversion beyond inorganic nanostructures
#15 Self-healing Electronic Nanodevices

See More
Xiaodong Chen is a Singapore NRF Fellow and Nanyang Assistant Professor at the School of Materials Science and Engineering, Nanyang Technological University (Singapore). He received his BSc degree in Chemistry from Fuzhou University (China) in 1999, his MSc degree in Physical Chemistry from the Chinese Academy of Sciences in 2002, and his PhD degree in Biochemistry from the University of Munster (Germany) in 2006. After his postdoctoral work at Northwestern University (USA), he started his independent research career at Nanyang Technological University in 2009. His research interests include self-assembly, plasmonics, nanoelectronics, and integrated nano-photo-bio interfaces.

Harald Fuchs is Professor of Experimental Physics at the University of Munster (Germany) and Scientific Director of the Center of Nanotechnology (CeNTech) in Munster. His research focuses on nanoscale science and nanotechnology, ranging from scanning probe microscopy to self-organized nanostructure fabrication, and nano-bio systems. He has published more than 450 scientific articles in top journals and received several awards. He is currently a member of various scientific organizations, German speaker of the international collabroation project TRR 61 commonly funded by DFG and NSFC, and founding member of the Herbert Gleiter Institute at NJUST, Nanjing China. He is elected member of the German National Academy of Science "Leopoldina" , the German Academy of Science and Engineering "acatech", and TWAS.
See More