E-book
Die Finanzkrise: Eine tragische Komödie
ISBN: 978-3-527-69609-3
309 pages
June 2015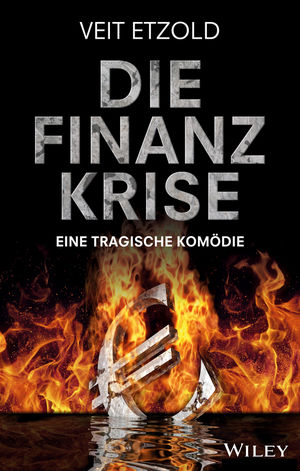 Erhellend, humorvoll und teilweise bitterböse!
Wir alle kennen sie, die realen »Protagonisten« der Finanzkrise: die Politiker und die Banker. Wir alle wissen, dass Gespräche hinter verschlossenen Türen stattgefunden haben und wir kennen die Ergebnisse. Aber was wurde tatsächlich besprochen?
In diesem Buch schauen Sie zusammen mit dem SPIEGEL-Bestseller-Autoren Veit Etzold hinter die Kulissen der Macht.
Ob Josef Ackermann mit Jochen Sanio, Bill Clinton mit Joseph Stiglitz, Wolfgang Schäuble mit Jörg Asmussen oder Angela Merkel mit Jens Weidmann – belauschen und beobachten Sie die Akteure der Finanzkrise in den fiktiven Gesprächen dieser tragischen Komödie.
Veit Etzold zeigt, was auf höchster Ebene passiert sein könnte
See More
DRAMATIS PERSONAE 11
Teil I F. I.R.E. EIN GESPRÄCH, DAS ES NICHT GEBEN SOLLTE 17
SPRENGSÄTZE IM KELLER 21
SPIELEN MIT DEM FEUER 27
WER LEBEN WILL, MUSS LEBEN SCHREIBEN – VERKAUFEN UM JEDEN PREIS 33
DAS RISIKO UMDREHEN – VON DEN BANKEN ZU DEN KUNDEN 41
Teil II DER WENDEPUNKT
»WENN DU EINEN FREUND BRAUCHST, KAUF DIR EINEN HUND!« – 2007 UND DIE EWIGE WIEDERKEHR DES GLEICHEN 51
DAS ENDE DES KAPITALISMUS, WIE WIR IHN KENNEN 55
SALOMON BROTHERS UND DER KÖNIG DER WALL STREET – IRGENDWANN IN DEN 80ERN 59
»IT'S THE HOUSING, STUPID!« BILL CLINTON TRÄUMT DEN HÄUSERTRAUM WEITER 69
AUS DEN AUGEN, AUS DEM SINN 75
»ES MUSS FALLEN ...«, SAGT JOHN PAULSON 79
»DA WIRD NICHTS FALLEN!« KLINKENPUTZEN BEI INVESTOREN 95
SGM – STUPID GERMAN MONEY 103
SHORT GEHEN: BEI FALLENDEN KURSEN GELD MACHEN 107
DEUTSCHLANDS DÜMMSTE BANK 113
ZAHLTAG: MITLEID WAR GESTERN 119
»JOHN PAULSON MADE IT!«: VORLESUNG IN HARVARD 129
Teil III DER STAAT HÄNGT MIT DRIN 2008: WEN JIABAO WILL WISSEN, WAS LOS IST 137
DER UNTERGANG VON BEAR STEARNS 145
DIE EXPLOSION – LEHMAN BROTHERS 157
DIE KERNSCHMELZE: AIG ODER »WER VERSICHERT VERSICHERUNGEN?« 165
DAS GOLDENE KALB – DAMIEN HIRST UND DAS ALTE TESTAMENT 175
SCHULD UND SCHULDEN – DER SÜNDIGE BANKER UND DAS NEUE TESTAMENT 183
»PACKEN SIE IHREN ROLLCONTAINER – SIE SIND GEFEUERT!« 191
»ES SIEHT NICHT GUT AUS!« – BESTANDSAUFNAHME IM DEUTSCHEN FINANZMINISTERIUM 195
Teil IV ZWISCHEN DAVOR UND DANACH: AM WENDEPUNKT DER KRISE 2010: WER IST SCHULD? »DUMME AMIS, BÖSE BANKEN, FAULE GRIECHEN«? 205
2010: HUNDERT JAHRE LANGSAMKEIT – DER GRIECHISCHE PATIENT 213
1989: DIE SPHINX UND DAS ZELT – EIN OMINÖSER DEAL UND DIE GRÜNDUNG DER EUROZONE 223
2010: GIERIG SEIN, WENN ANDERE ANGST HABEN – CHINA GREIFT EIN 233
2012: DER ESM ODER »VERSAILLER VERTRAG 2.0« – DER RETTUNGSSCHIRM, DER KEINER IST 243
2012: ALTERNATIVLOS 255
2014: EIN BESUCH BEI DER BAD BANK EUROPAS 267
2014: VON WEGEN SCHULDENSCHNITT – DIE STAATEN WERDEN VERKLAGT 283
2014: ES BLEIBT, WIE ES IST: STUPID GERMAN MONEY 287
Teil V KOMÖDIE ODER TRAGÖDIE? ANFANG VOM ENDE ODER ENDE VOM ANFANG? 295
IST DIE KRISE DENN NUN VORBEI? ODER FÄNGT SIE ERST RICHTIG AN? 305
STICHWORTVERZEICHNIS 307
See More
Dr. Veit Etzold ist einer der erfolgreichsten Thriller Autoren Deutschlands und Autor von bisher drei Spiegel-Bestseller-Thrillern (Final Cut, Seelenangst, Todeswachter). Er arbeitete als Manager bei der Allianz, als Berater im Bereich Financial Service bei der Boston Consulting Group und als Programm-Direktor der ESMT European School of Management and Technologie. Er berat internationale Unternehmen in Fragen der Strategie und Positionierung und hat zahlreiche Lehrauftrage an renommierten Business Schools. Ebenso veroffentlicht er regelma?ig in Magazinen wie der "European Financial Review" und dem "Harvard Business Manager". Dr. Etzold studierte Englisch am King's College London, promovierte in Medienwissenschaften und halt einen MBA der IESE Business School. Bei Wiley hat er bereits den preisgekronten Wirtschaftsbestseller "Der wei?e Hai im Weltraum - Storytelling fur Manager" veroffentlicht und war Co-Autor mit Dr. Daniel Stelter in "Die Billionen Schulden Bombe - Wie die Krise begann und warum sie noch lange nicht zu Ende ist".
See More