Dictionary of Electrical Engineering, Power Engineering and Automation / Wörterbuch Elektrotechnik, Energie- und Automatisierungstechnik
ISBN: 978-3-89578-314-2
994 pages
October 2009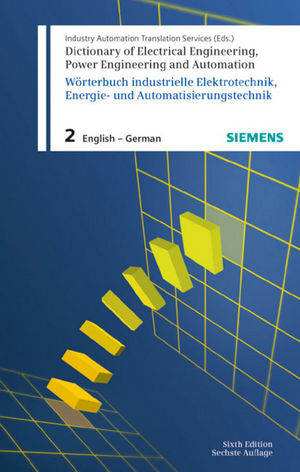 This dictionary is the standard work for translators, engineers, and technical writers requiring a comprehensive and reliable compilation of terms from the fields of power generation, transmission and distribution, drive engineering, automation, switchgear and installation engineering, power electronics as well as measurement and test engineering. For this edition, the dictionary has been updated and enlarged by about 40%. In the translation direction English-German, it now contains about 115,000 entries and 156,000 translations.
See More
Power Generation;
Transmission and Distribution;
Drive Engineering;
Switchgear and Installation Engineering;
Power Electronics;
Measurement;
Analysis and Test Engineering;
Automation Engineering;
Basic Electrotechnical Terms
See More
Industry Automation Translation Services is the main provider of translations and terminology work for the three Siemens sectors Energy, Industry and Health.
See More