Automating with SIMATIC S7-300 inside TIA Portal
ISBN: 978-3-89578-382-1
709 pages
October 2012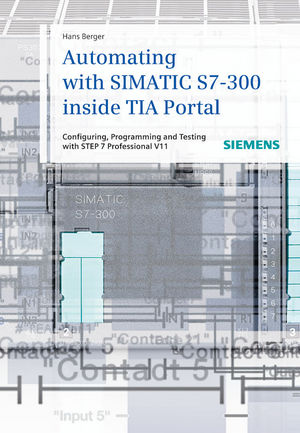 This book presents a comprehensive description of the configuration of devices and network for the S7-300 components inside the new engineering framework TIA Portal. You learn how to formulate and test a control program with the respective languages LAD and FBD or STL and SCL. The book is rounded off by configuring the distributed I/O with PROFIBUS DP and PROFINET IO using SIMATIC S7-300 and data exchange via Industrial Ethernet.

SIMATIC is the globally established automation system for implementing industrial controllers for machines, production plants and processes. SIMATIC S7-300 has been specially designed for innovative system solutions in the manufacturing industry and it offers the optimal solution for applications in centralized and distributed configurations. Alongside standard automation safety technology and motion control can also be integrated. Open-loop and closed-loop control tasks are formulated with the STEP 7 Professional V11 engineering software in the field-proven programming languages Ladder Diagram (LAD), Function Block Diagram (FBD), Statement List (STL), and Structured Control Language (SCL). The TIA Portal user interface is tuned to intuitive operation and encompasses all the requirements of automation within its range of functions: from configuring the controller, through programming in the different languages, all the way to the program test.

Users of STEP 7 Professional V12 will easily get along with the descriptions based on the V11. With start of V12, the screens of the technology functions might differ slightly from the V11.
See More
1 Introduction 20
2 SIMATIC S7-300 automation system 42
3 Device configuration 61
4 Tags, addressing, and data types 86
5 Program execution 140
6 Program editor 213
7 Ladder logic LAD 242
8 Function block diagram FBD 274
9 Statement list STL 307
10 Structured Control Language SCL 355
11 S7-GRAPH sequential control 390
12 Basic functions 421
13 Digital functions 469
14 Program flow control 524
15 Online operation and program test 558
16 Distributed I/O 597
17 Communication 646
18 Appendix 671
Index 705
See More
Hans Berger is a very experienced developer of automation systems and software and a most successful author of technical books.
See More