E-book
Strategic Management in the Knowledge Economy: New Approaches and Business Applications, 2nd, Updated Edition
ISBN: 978-3-89578-610-5
355 pages
June 2007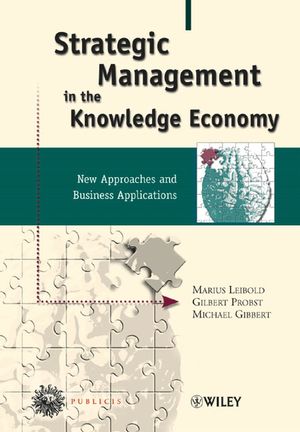 Due to the dramatic shifts in the knowledge economy, this book provides a significant departure from traditional strategic management concepts and practice. Designed for both advanced students and business managers, it presents a unique combination of new strategic management theory, carefully selected strategic management articles by prominent scholars such as Gary Hamel, Michael Porter, Peter Senge, and real-world case studies.
On top of this, the authors link powerful new benchmarks in strategic management thinking, including the concepts of Socio-Cultural Network Dynamics, Systemic Scorecards, and Customer Knowledge Management with practical business challenges and solutions of blue-chip companies with a superior performance (Lafite-Rothschild, Who's Who, Holcim, BRL Hardy, Kuoni BTI, Deutsche Bank, Unisys, Novartis).

See More
Neue Ansätze für Unternehmensstrategien im Global Network
Fundamentale Auswirkungen der globalen Knowledge Economy auf das strategische Management
Traditionelle Ansätze und Schwierigkeiten bei bisherigen Anwendungen von strategischem Management
Neue Geschäftsmodelle und multidimensionale Unternehmensziele in der Knowledge Economy
Neue Betrachtungsweisen strategischer Managementprozesse and -fähigkeiten
Neue Tools für strategisches Management
Bestimmte Arten neuer Strategien und von Corporate Leadership in der Knowledge Economy
Strategisches Management - die Herausforderung der Zukunft
See More
MARIUS LEIBOLD
Professor in Strategic International Management an der Universität Stellenbosch, Südafrika. Eines seiner Themen sind neue Geschäftsmodelle für internationale Wettbewerbsfähigkeit.

GILBERT PROBST
Professor für Organisation und Management und Direktor des MBA-Programms an der Universität Genf. Er ist Berater verschiedener großer Unternehmen, außerdem Gründer und Partner der Geneva Knowledge Group und des Forums für Wissensmanagement in Genf.

MICHAEL GIBBERT
Assistant Professor an der Bocconi-Universität Mailand. Er beschäftigt sich unter anderem mit E-Business-Strategien.
See More