Origin of Life: Chemical Approach
ISBN: 978-3-90639-050-5
Hardcover
429 pages
April 2008
US $220.00

Add to Cart
This price is valid for United States. Change location to view local pricing and availability.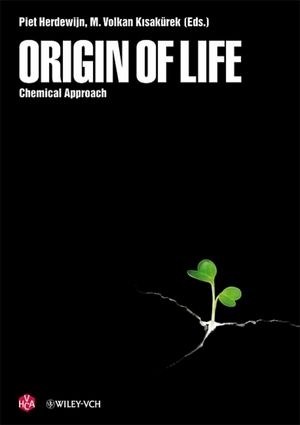 1. What Is Life? A Brief Historical Overview (A. Lazcano)
2. Reactions of the HCN-Tetramer with Aldehydes (K. Koch, W. B. Schweizer, A. Eschenmoser)
3. On a Hypothetical Generational Relationship between HCN and Constituents of the Reductive Citric Acid Cycle (A. Eschenmoser)
4. Chemistry and Selection (C. de Duve)
5. On the Chemistry and Evolution of the Pioneer Organism (G. Wächtershäuser)
6. Physico-Chemical and Evolutionary Constraints for the Formation and Selection of First Biopolymers: Towards the Consensus Paradigm of the Abiogenic Origin of Life (A. Y. Mulkidjanian, M. Y. Galperin)
7. Chemical Aspects of Synthetic Biology (P. L. Luisi)
8. Errors and Alternatives in Prebiotic Replication and Catalysis (J. Ninio)
9. Evolution of Optimal Accuracy and Stability in Biological Systems (R. Holliday)
10. Ribozyme Catalysis of Metabolism in the RNA World (X. Chen, N. Li, A. D. Ellington)
11. RNAs in Extreme Environments (C. Torchet, M.-C. Maurel)
12. Intractable Mixtures and the Origin of Life
(A. W. Schwartz)
13. The First Steps of Chemical Evolution towards the Origin of Life (B. M. Rode, D. Fitz, T. Jakschitz)
14. From Interstellar Amino Acids to Prebiotic Catalytic Peptides: A Review (A. Brack)
15. The Chemistry That Preceded Life's Origin: A Study Guide from Meteorites (S. Pizzarello)
16. Formamide Chemistry and the Origin of Informational Polymers (R. Saladino, C. Crestini, F. Ciciriello, G. Costanzo, E. Di Mauro)
17. RNA: Prebiotic Product, or Biotic Invention? (C. stasi, F. F. Buchet,
M. A. Crowe, A. L. Parkes, M. W. Powner, J. M. Smith, J. D. Sutherland)
18. Peptide Nucleic Acids and the Origin of Life (P. E. Nielsen)
19. Chemical Etiology of Nucleic Acids: Aminopropyl Nucleic Acids (APNAs)
(D. Zhou, M. Froeyen, J. Rozenski, A. Van Aerschot, P. Herdewijn)
20. Nonenzymatic Recombination of RNA: Possible Mechanism for the Formation of Novel Sequences (A. V. Lutay, M. A. Zenkova, V. V. Vlassov)
21. Differences in Substrate Specificity of C(5)-Substituted or C(5)-Unsubstituted Pyrimidine Nucleotides by DNA Polymerases from Thermophilic Bacteria, Archaea, and Phages (H. Sawai, J. Nagashima, M.
Kuwahara, R. Kitagata, T. Tamura, I. Matsui)
22. Addressing the Problems of Base Pairing and Strand Cyclization in Template-Directed Synthesis. A Case for the Utility and Necessity of "Molecular Midwives" and Reversible Backbone Linkages for the Origin of proto-RNA (N. V. Hud, S. S. Jain, X. Li, D. G. Lynn)
23. Enzymatic Catalyzed DNA Synthesis using L-Asp-dGMP, L-Asp-dCMP, and L-Asp-dTMP (M. Terrazas, P. Marlière, P. Herdewijn)
24. Chemical Primer Extension: Individual Steps of Spontaneous Replication (J. A. Rojas Stütz, E. Kervio, C. Deck, C. Richert)
25. Conformational and Chiral Selection of Oligonucleotides (M. Froeyen, F. Morvan, J.-J. Vasseur, P. Nielsen, A. Van Aerschot, H. Rosemeyer, P. Herdewijn)
26. Index
Buy Both and Save 25%!
Origin of Life: Chemical Approach (US $220.00)
-and- RNA Biology (US $85.00)
Total List Price: US $305.00
Discounted Price: US $228.75 (Save: US $76.25)
Cannot be combined with any other offers. Learn more.