Pharmaceutical Salts: Properties, Selection, and Use, 2nd Revised Edition
ISBN: 978-3-90639-051-2
388 pages
April 2011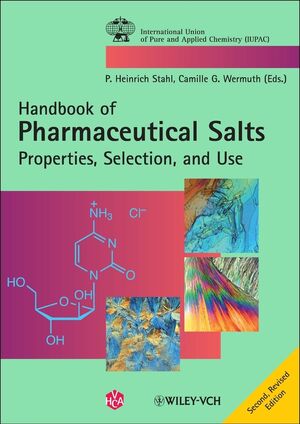 The first edition of this handbook was a tremendous success, collating the scientific literature on this topic that had otherwise been rather limited and scattered throughout numerous journals and patents. The result was a comprehensive resource that addresses the preparation, selection, and use of pharmaceutically active salts, examining the opportunities for increased efficacy and improved drug delivery provided by the selection of an optimal salt. This second, revised edition is designed to meet the continued interest in both the topic and the book.
Altogether, the contributions to this book by international team of authors from academia and pharmaceutical industry reflect the multidisciplinary nature of the science involved in selection of suitable salt forms for new drug products. They present the necessary theoretical foundations as well as a wealth of detailed practical experience in the choice of pharmaceutically active salts, taking great care to address every conceivable aspect of the preparation of pharmaceutical salts.
An introductory chapter presents a concise review of the various objectives in the pursuit of pharmaceutically active salts, followed by the theoretical background of salt formation. There then follow chapters on the practice of salt formation in an industrial R&D environment, as well as regulatory and patent issues. Practical examples for the practitioners at the lab bench are provided, before the book concludes with a comprehensive annotated compilation of the individual salt-forming acids and bases with their relevant properties, followed by an appendix containing tables with the acids and bases sorted alphabetically and by pKa, supplemented with other useful facts and data.
An essential reference for students of medicinal and pharmaceutical chemistry, and an indispensable handbook for R&D chemists, analytical chemists, biologists, development pharmacists, regulatory and patent specialists, and medicinal scientists engaged in preclinical development of drugs. In addition, this comprehensive and up-to-date guide is an instructive companion for all scientists involved in the research and development of drugs and, in particular, of pharmaceutical dosage forms.
See More
Introduction (
Camille G. Wermuth and P. Heinrich Stahl
).
Chapter 1. The Physicochemical Background: Fundamentals of Ionic Equilibria (Michael B. Maurin, David J. W. Grant, and P. Heinrich Stahl).
Chapter 2. Solubility and Dissolution of Weak Acids, Bases, and Salts (Madhu Pudipeddi, Abu T. M. Serajuddin, David J. W. Grant, and P. Heinrich Stahl).
Chapter 3. Evaluation of Solid-State Properties of Salts (Danielle Giron and David J. W. Grant).
Chapter 4. Pharmaceutical Aspects of the API Salt Form (P. Heinrich Stahl and Finlay S. Skinner).
Chapter 5. Biological Effects of the API Salt Form (Friedlieb Pfannkuch, Harald Rettig, and P. Heinrich Stahl).
Chapter 6. Salt-Selection Strategies (Abu T. M. Serajuddin and Madhu Pudipeddi).
Chapter 7. A Procedure for Salt Selection and Optimization (Michael J. Bowker).
Chapter 8. High-Throughput Strategies and Techniques for Salt Screening (Nicole Wyttenbach, Bertrand Sutter, and Pirmin Hidber).
Chapter 9. Large-Scale Aspects of API Salt Manufacture (Piotr H. Karpiński).
Chapter 10. Patent Aspects of API Salt Formation (Hans-Günther Foraita).
Chapter 11. Regulatory Aspects of API Salts (Maria Arfwedson and Alan Chalmers, Jun-ichi Kondo and P. Heinrich Stahl, and Mansoor A. Khan and Vilayat A. Sayeed).
Chapter 12. Selected Procedures for the Preparation of Pharmaceutically Acceptable Salts (Camille G. Wermuth and P. Heinrich Stahl).
Chapter 13. Monographs on Acids and Bases (P. Heinrich Stahl and Camille G. Wermuth).
Appendix (P. Heinrich Stahl).
Subject-Index.
Substance-Index.
See More
P. Heinrich Stahl
(Author/Editor) studied Pharmaceutical Sciences in Freiburg, Germany, and completed his Ph. D. thesis on the synthesis of purine heterocycles under the supervision of Kurt Walter Merz. This was followed by a postdoctoral fellowship at the Sloan-Kettering-Institute for Cancer Research, New York. In 1969, he joined in Basel, Switzerland. At CIBA, Basel, Switzerland, he focused his attention on pharmaceutical technology and solved problems in tablet granulate drying. Subsequent to the merger of the Ciba and Geigy companies, he built up the Preformulation Group for API characterization at the interface between medicinal chemistry, dosage form development, and analytics. After an assignment to the Summit, N.J., research site of Ciba-Geigy, he returned to Basel to take over the responsibility for special formulation topics. Since 1995 he was responsible for the global coordination of early compound evaluation. After his retirement in 1997, he still continues his research at the Biocenter in Basel, focusing on the in vitro modeling of passive drug transport across lipid double-layers. Dr. P. H. Stahl is an IUPAC Fellow and a member of the International Association for Pharmaceutical Technology, of the Pharmaceutical Society of Germany, and of the Swiss Society of Industrial Pharmacists. He has co-authored multiple scientific and technological papers, patents, and book chapters. He is an active consultant to several pharmaceutical companies.
Camille G. Wermuth (Author/Editor) PharmD, PhD, Founder, President and Chief Scientific Officer of Prestwick Chemicalis, a former Professor of Organic and Medicinal Chemistry at the Faculty of Pharmacy at the Louis Pasteur University in Strasbourg, France. Pr. Wermuth's research combines synthesis and molecular modeling, and concentrates mainly on CNS diseases. He is the author and co-author of over 300 peer-reviewed scientific papers and of several books or book chapters, and holds over 60 patents. Pr. Wermuth has been awarded the Charles Mentzer Prize of the Société Française de Chimie Thérapeutique, the Léon Velluz Prize of the French Academy of Science, and the Prix de l'Ordre des Pharmaciens by the French Academy of Pharmacy. He is Corresponding Member of the German Pharmaceutical Society, and was nominated Commandeurs des Palmes Académiques. He has been nominated President of the Division of Chemistry and Human Health of the International Union of Pure and Applied Chemistry (IUPAC).
See More