Classical Methods in Structure Elucidation of Natural Products
ISBN: 978-3-90639-073-4
280 pages
February 2018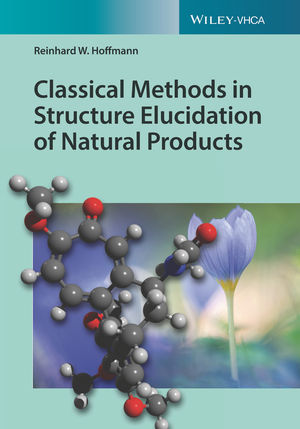 Organic chemistry as we know it today originated from a preoccupation with substances isolated from nature. In the period from 1860 to 1960, the main task was to elucidate their molecular structure by way of degradation and synthesis. In light of the limited experimental methods available and the lack of established reference compounds, this represented an unparalleled intellectual challenge.
This book makes use of twenty-five representative examples to retrace the great accomplishments made by the generation of chemists during this era. At the same time, it questions the reliability of the experimental results when judged by today's criteria, particularly since the structures for numerous natural products are stated as established facts in standard text books.
With each chapter devoted to one organic compound, the author combines results from historic experiments to trace a line of evidence that may follow the path put forward by the original contributors. However, in some cases the experimental facts have been combined to form another, hopefully shorter, line of evidence. As a result, readers are able to determine for themselves the 'facts behind the established structure assignments' of a number of important natural products.

See More
COMPOUNDS WITH ONLY OXYGEN FUNCTIONALITIES
Ascorbic Acid
Hinokitiol
Ascorbic Acid
Hinokitiol
Cantharidine
Camphor
Alpha--Terpineol
Lactaroviolin
Santonine
Estrone
Alpha--Tocopherol

COMPOUNDS WITH NITROGEN AND OXYGEN FUNCTIONALITIES
Pyridoxine
Muscarine
Lupinine
Lysergic Acid
Riboflavine
Cocaine
Quinine
Colchicine
Luciferin
Strychnine

COMPOUNDS WITH ADDITIONAL FUNCTIONALITIES
Biotin
Thiamine
Griseofulvin

COMPOUNDS WITHOUT HETEROATOM-FUNCTIONALITIES
Decacyclene
Carotene

CAN YOU DO IT YOURSELF?
Penicillin
See More
Reinhard W. Hoffmann is Professor Emeriti of the University of Marburg. He studied chemistry at the Universitšt Bonn and received his Dr. rer. nat. in 1958 under the direction of Prof. B. Helferich. He spent two years as postdoctoral fellow at The Pennsylvania State University with Prof. G. W. Brindley and moved then to the Universitšt Heidelberg for another postdoctoral year with Prof. G. Wittig. In 1964 he obtained his habilitation and in 1967 he moved as lecturer to the Technische Hochschule Darmstadt and in 1970 to his present position as Professor of Organic Chemistry at the Universitšt Marburg. His research interests are new methods in stereoselective C-C-bond formation, their application in natural products synthesis and the stereochemistry of reactive organometallic compounds. More recent research activities concern combinatorial approaches to new catalysts and conformation design.

See More