Journal
Analyses of Social Issues and Public Policy
Vol 17
(1 Issues in 2017)
Edited by: Heather Bullock
Impact Factor: 1.243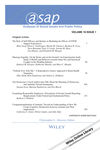 Analyses of Social Issues and Public Policy (ASAP) is a journal of the Society for the Psychological Study of Social Issues (SPSSI). The journal is an outlet for psychological and social science scholarship with implications for social action and policy. Under the guidance of an international editorial board, ASAP serves a global audience that includes policy makers and advocates as well as social scientists, students, and the public at large. Articles are published electronically as soon as they are accepted for publication, then in print at the end of every calendar year.
Analyses of Social Issues and Public Policy is rated in the top 15% of journals in the category Social Sciences (miscellaneous) in the SCOPUS/SCImago journal rankings at http://bit.ly/ASAPImpactFactor, with an SJR (SCImago Journal Rank) of .047 and a Cites per Doc. (2y) of 1.08 (the latter value is computed using the same formula as Thomson Reuters' Impact Factor).

In addition to a subscription to ASAP, subscribers to the journal also receive a full subscription to Journal of Social Issues (JSI) and Social Issues and Policy Review (SIPR).
See More