Textbook
Wiley Pathways Finance, 1st Edition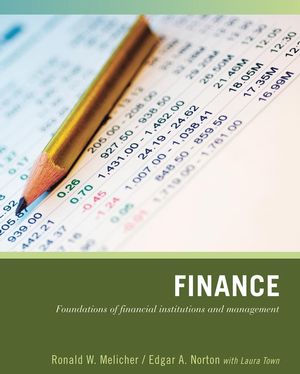 How do financial markets and institutions affect businesses and individuals? How do firms raise funds? How can an individual use markets and institutions to meet their own personal goals? In order to answer these questions, a reader must have a strong understanding of financial markets and institutions. This concise book provides the necessary information, presenting the general principles of finance and showing how they are applied in the field.
See More
Preface.
Acknowledgments.
Part I: Basic Financial Principles.
1. Introduction to Finance.
Introduction.
1.1 Why Study Finance?
1.2 What Is Finance?
1.3 Four Principles of Finance.
1.4 The Financial System.

1.5 Financial Functions.
1.6. Types of Financial Institutions.
1.7 Types of Financial Markets.
1.8 Types of Securities.
1.9 International Securities and Markets.
2. Money and Interest Rates.
Introduction.
2.1 Overview of the Monetary System.
2.2 The Federal Reserve System.
2.3 The Development of Money in the United States.
2.4 U.S. Money Supply Today.
2.5 Money Supply and Economic Activity.
2.6 Interest: The Cost of Money.
2.7 Structure of Interest Rates.
2.8 The Yield Curve.
3. Time Value of Money.
Introduction.
3.1 The Math of Finance.
3.2 Compounding to Determine Future Values.
3.3 Inflation or Purchasing Power Implications.
3.4 Discounting to Determine Present Values.
3.5 Finding Interest Rates and Time Requirements.
3.6 Future Value of an Annuity.
3.7 Future Value of an Annuity Due.
3.8 Frequent Compounding or Discounting Intervals.
3.9 APR Versus EAR.
3.10 Cost of Consumer Credit.
4. Financial Statements, Cash Flow and Taxes.
Introduction.
4.1 Overview of Financial Statements.
4.2 U.S. Business Organizations.
4.3 Starting a Business.

4.4 Annual Reports.
4.5 Balance Sheet.
4.6 Income Statement.
4.7 Cash Flow Statement.

4.8 Financial Statements of Different Companies.
4.9 Our Federal Tax System.
5. Analysis Of Financial Statements.
Introduction.
5.1 Financial Statement Analysis.
5.2 Ratio Analysis.
5.3 Types of Financial Ratios.
5.4 Du Pont Method of Ratio Analysis.

5.5 Long-Term Financial Planning.
5.6 Cost-Volume-Profit Analysis.
Part II: Using Financial Principles in Business.
6. The Basics of Capital Budgeting.
Introduction.
6.1 Overview of Capital Budgeting..
6.2 Capital Budgeting Decisions.
6.3 Capital Budgeting Techniques.
7. Cash Flow Estimation and Risk Analysis.
Introduction.
7.1 Cash Flows and Competitive Advantage.
7.2 Isolating Project Cash Flows.
7.3 Approaches to Estimating Project Cash Flows.
7.4 Risk-Related Considerations.
7.5 Strategic Analysis.
7.6 Real-Option Analysis.
8. Managing Working Capital.
Introduction.
8.1 Identifying Working Capital.
8.2 Operating Cash and Conversion Cycles.
8.3 Working Capital Requirements.
8.4 Cash Budgets.
8.5 Seasonal versus Level Production.
8.6 Management of Current Assets.
8.7 Getting—and Keeping—the Cash.
8.8 Accounts Receivable Management And Credit Analysis.
8.9 Inventory Management.
8.10 Technology and Managing Working Capital .
9. Short-Term Business Financing.
Introduction.
9.1 Strategies for Financing Working Capital.
9.2 Factors Affecting Short-Term Financing.
9.3 Short-Term Financing Sources.

9.4 Computing Interest Rates.
9.5 Asset-Based Lending for Short-Term Financing.
9.6 Other Forms of Security.
9.7 The Cost of Short-Term Financing.

10. Risk and Rate of Return.
Introduction.
10.1 Historical Return and Risk for a Single Asset.
10.2 Expected Measures of Return and Risk.
10.3 Historical Returns and Risk of Different Assets.
10.4 Efficient Capital Markets.
10.5 Portfolio Returns and Risk.
10.6 Diversification.
10.7 Portfolio Risk and the Number of Investments.
10.8 Capital Asset Pricing Model.
11. Capital Structure and the Cost of Capital.
Introduction.
11.1 Capital Structure.
11.2 Required Rate of Return and the Cost of Capital.
11.3 Weighted Average Cost of Capital.
11.4 Making Capital Structure Decisions.
11.5 Planning Growth Rates.
11.6 EBIT/EPS Analysis.
11.7 Combined Operating and Financial Leverage Effects.

11.8 Other Costs and Risks.
11.9 Debt and Equity.
Part III: Stocks, Bonds, and the International Market.
12. Stocks and the Markets: Trading Securities.
Introduction.
12.1 Types of Common Stock.
12.2 Preferred Stock.
12.3 The New York Stock Exchange.
12.4 Stock Transactions.
12.5 Initial Public Offerings (IPOs).
12.6 Direct and Indirect Costs of Going Public.
12.7 Trading Securities—Secondary Securities Markets.
12.8 A Word on Commissions.
12.9 Security Market Indexes.
12.10 Inside Information and Other Ethical Issues.
13. Distributions To Stockholders.
Introduction.
13.1 Dividends versus Capital Gains.
13.2 Estimating Future Dividends.
13.3 Dividend Stability and Dividend Policy.
13.4 Constant Growth Stocks.
13.5 Reading Stock Quotes.
13.6 Tracking Stocks.
13.7 Evaluating the Corporation.
13.8 Stock Options.
13.9 Dividend Reinvestment Plans.
14. Annuities, Bonds, Futures and Options.
Introduction.
14.1 Annuities.
14.2 Bonds.
14.3 Bondholder Security.
14.4 Other Types of Bonds.
14.5 Bond Income and Strategies.
14.6 Global Bond Market.
14.7 Reading Bond Quotes.
14.8 Futures and Options.
15. International Trade and Finance.
Introduction.
15.1 International Monetary System.
15.2 European Unification.
15.3 Currency Exchange Markets And Rates.
15.4 Investing Overseas.
15.5 Arbitrage.
15.6 Exchange Rate Developments for the U.S. Dollar.
15.7 Conducting Business Internationally.
15.8 Financing International Trade.
15.9 Other Aids to International Trade.
15.10 Balance in International Trade.
Appendices.
Glossary.
Index.
See More
Ronald Melicher
is a Professor of Finance and Chair of the Finance Division in the College of Business at the University of Colorado at Boulder. He is also a President's Teaching Scholar and the W. H. Baughn Distinguished Scholar. Dr. Melicher is currently in his 31st year of teaching at the University of Colorado.
Edgar Norton's teaching and research interests include investments, corporate finance, and entrepreneurial finance. His research has been published in a variety of finance, economic, and small business journals, including Financial Review nad the Journal of Business Research. A recipient of an Award of Excellence for a research paper at a conference sponsored by the International Council for Small Business, he was recognized in an article in the Journal of Management as one of the most productive entrepreneurship researchers of the early 1990s. He has co-authored four books.
See More
Pre-test: Pre-reading assessment tool in multiple-choice format. Introduces chapter material and helps students get an idea of what they know and where they need to focus their efforts.
What You ll Learn in this Chapter and After Studying this Chapter: Presents the subject matter that the student will learn and emphasizes capabilities and skills students will build.
Goals and Outcomes. These lists identify specific student capabilities that will result from reading the chapter. They help the student set expectations and show them what to reach for.
Figures and tables. Line art and photos are carefully chosen to be instructional. Tables distill and present information clearly so students can focus on the essential ideas.
Introduction. This section orients the student by introducing the chapter and explaining its importance. Short summaries of chapter sections preview the topics to follow.
Chapters. Each chapter is broken down into an average of four or five concise sections. A short assessment is provided at the end of each section.
For Example Boxes: Found within each segment, a real world example is anchored to each section that illustrates and applies the preceding content.
Self-Check: Short answer questions at the end of the chapter let students know if they ve mastered the content. Each question set includes a link to a section of the pre-test for further review.
Summary: Each chapter concludes with a summary paragraph that captures and reviews the major concepts in the chapter and links back to the What you ll learn list
Key Terms and Glossary: A convenient list of all terms that appear in boldfaced throughout the chapter are listed at the end of the chapter and in the glossary.
Summary Questions help students summarize the chapter s main points by asking a series of multiple choice and true/false questions that emphasize how well they understand the concepts and content.
Review Questions in short answer format review the major points in each chapter. It encourages critical thinking skills while reinforcing and confirming that the concepts and content are understood.
Applying this Chapter Questions drive home key ideas by asking students to combine and apply chapter concepts to new, real-life situations and scenarios.
You Try It! Questions encourage students to draw conclusions using chapter material applied to real-world situations, which promotes both mastery of the content and independent learning.
Post-test should be taken after students have completed the chapter. It includes all of the questions in the pre-test, so that students can see how their learning has progressed and improved.
See More
Purchase Options

Information about Wiley E-Texts:
Wiley E-Texts are powered by VitalSource technologies e-book software.
With Wiley E-Texts you can access your e-book how and where you want to study: Online, Download and Mobile.
Wiley e-texts are non-returnable and non-refundable.
WileyPLUS registration codes are NOT included with the Wiley E-Text. For informationon WileyPLUS, click here .
To learn more about Wiley e-texts, please refer to our FAQ.

Information about e-books:
E-books are offered as e-Pubs or PDFs. To download and read them, users must install Adobe Digital Editions (ADE) on their PC.
E-books have DRM protection on them, which means only the person who purchases and downloads the e-book can access it.
E-books are non-returnable and non-refundable.
To learn more about our e-books, please refer to our FAQ.