Textbook
Perspectives on Animal Behavior, 3rd Edition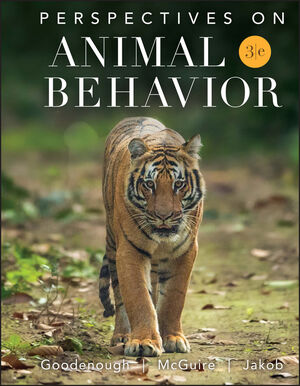 The third edition of a successful and effective book for the introductory course in Animal Behavior. The text includes strong supportive reviews, a balanced approach and the latest in research and findings. The author is known for an accessible and easy-to-understand writing style making the most difficult topics understandable.
See More
Chapter 1. Introduction.
Part 1. Approaches to the Study of Animal Behavior.
Chapter 2. History of the Study of Animal Behavior.
Chapter 3. Genetic Analysis of Behavior.
Chapter 4.Natural Selection and Behavior.
Chapter 5. Learning and Cognition.
Chapter 6. Physiological Analysis-Nerve Cells and Behavior.
Chapter 7. Physiological Analysis of Behavior –The Endocrine System.
Chapter 8. The Development of Behavior.
Part 2. Survival.
Chapter 9. Biological Clocks.
Chapter 10. Mechanisms of Orientation and Navigation.
Chapter 11. The Ecology and Evolution of Spatial Distribution.
Chapter 12. Foraging Behavior.
Chapter 13. Antipredator Behavior.
Part 3. Interactions Between Individual s.
Chapter 14. Reproductive Behavior.
Chapter 15. Parental Care and Mating Systems.
Chapter 16. Communication: Channels and Functions.
Chapter 17. The Evolution of Communication.
Chapter 18. Conflict.
Chapter 19. Group Living, Altruism, and Cooperation.
Glossary.
References.
Photo Credits.
Permissions.
Index. 
See More
Judith Goodenough,
from the Department of Biology at the University of Massachusetts, has studied biological rhythms in creatures from planaria to finches to deer mice, and even in the green alga
Chlamydomonas
.
Betty McGuire is from the Department of Ecology and Evolutionary Biology at Cornell University. Her research focuses on parental behavior, reproduction, and ecology of small mammals, and she occasionally dabbles in work with larger domestic animals such as dogs and horses.
Elizabeth Jakob, from the Department of Psychology at the University of Massachusetts, studies the behavior of spiders, asking questions about their learning, perception, and interactions with conspecifics and with other species. She has carried out field projects in California, Mexico, Massachusetts, and Maine.
See More
Enhanced coverage of applied animal behavior and animal welfare
New focus on the relevance of animal behavior to conservation biology
Addition of examples from human behavior have been added to help student understanding of certain concepts.
New focus on experimental methods and experimental design has been given throughout the text.
New focus on hypothesis testing also has been included throughout the book.
New section on Recent Trends in Animal Behavior includes discussions of:

Field studies that test hypotheses
Cellular and molecular advances in the study of behavior, including neurobiology and genomics
Behavioral biology as an integrated study of behavior at the level of the whole organism
Applied animal behavior

A major new discussion on the neural basis of learning, including a section on neurogenesis.
See More
Up to Date Content. This is a progressing and dynamic field of study. The author strives to incorporate both the latest research findings and historical experimental evidence. Some of the current "hot" topics include animal awareness, neural basis of learning, research and experimental methods.
Balanced Approach. The author lays the groundwork by starting with the history of animal behavior and then moving into the coverage of modern research in all major areas of animal behavior. The field of animal behavior can be controversial with many viewpoints and approaches. The author introduces students to multiple ideas and approaches to animal behavior. The text includes many of the molecular approaches to the study of behavior, such as the use of knock out mice and the molecular basis of the circadian clock.
Student Motivation. The writing style is found to be accessible and motivating for the students so they can see the relationships between ideas presented. The first edition was positively received by students and faculty and reviewed as a useful and accessible book for students.
Expanded and Fully Developed Concepts. Important concepts are comprehensively discussed and explained in a clear and balanced manner.
Accessible Coverage. While traditionally taught as an upper-level course in both biology and psychology, student backgrounds vary, so the author includes requisite background material on genetics and other basic molecular topics that are crucial to student understanding of the course.
See More
Instructors Resources
Digital evaluation copy available for this title
Request Copy

Contact your Wiley Representative
Find Your Rep

See More
See Less
Purchase Options

Information about Wiley E-Texts:
Wiley E-Texts are powered by VitalSource and accessed via the VitalSource Bookshelf reader, available online and via a downloadable app.
Wiley E-Texts are accessible online and offline, and can be read on a variety of devices, including smartphones and tablets.
Wiley E-Texts are non-returnable and non-refundable.
Wiley E-Texts are protected by DRM. For specific DRM policies, please refer to our FAQ.
WileyPLUS registration codes are NOT included with any Wiley E-Text. For informationon WileyPLUS, click here .
To learn more about Wiley E-Texts, please refer to our FAQ.

Information about e-books:
E-books are offered as e-Pubs or PDFs. To download and read them, users must install Adobe Digital Editions (ADE) on their PC.
E-books have DRM protection on them, which means only the person who purchases and downloads the e-book can access it.
E-books are non-returnable and non-refundable.
To learn more about our e-books, please refer to our FAQ.