Textbook
Microsoft Windows Vista: Exam 77-600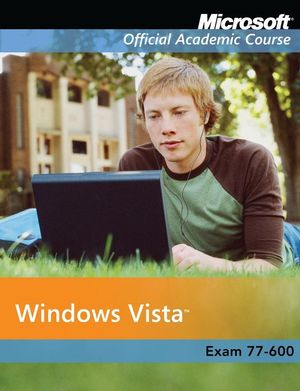 The Microsoft Official Academic Course (MOAC) Program is the official product for Microsoft Programs in higher education.  These learning products are created especially for the academic market and combine the business world focus and market research of Microsoft with 200 years of successful higher education publishing from Wiley.
The program is based upon the same curriculum as the Microsoft IT Certifications to build the skills students need to succeed at work and the preparation they need to validate those skills and get the jobs they seek.
All the support instructors need to deliver great courses on Microsoft software is in the program.  Microsoft Updates will bring you the latest information on new products and curriculums and are a part of the program.  MOAC is a great way for instructors to get ready to teach and for students to get ready to learn.

See More
Lesson 1. Getting Started
About Microsoft Windows Vista
Lesson 2. Working with Files and Folders
Lesson 3. Organizing Files and Folders
Lesson 4. Personalizing the Vista Workspace
Lesson 5. Customizing Folder Windows
Lesson 6. Working with Multimedia Files
Lesson 7. Searching for Files and Folders
Lesson 8. Getting Help and Support
Lesson 9. Monitoring the Vista Environment
Lesson 10. Managing System Resources
Lesson 11. Managing Software
Lesson 12. Using Windows Vista and the Internet
Lesson 13. Managing a Networked Environment
Lesson 14. Collaborating with Others
Lesson 15. Customizing Your Computing Environment
See More
180 day trial version of Microsoft Office Professional Edition 2007  packaged with each corresponding textbook
Task based approach to learning software uses, features, and commands
L1 Assessment and Learning software from Certiport available with the book
Microsoft Updates – Technology and curriculum seminars delivered through the Wiley Faculty Network 
L2 Certification Assessment from Certiport available with the book
Free MSDNAA license for the department available upon adoption
Microsoft Certified Application Specialist mapping throughout the text The certification exam objectives are introduced and summarized in each lesson, and they are called out at the point of introduction throughout the lesson
Three levels of assessment at the end of each chapter build student confidence from competence to proficiency to mastery
A wealth of authentic business scenarios are introduced and used in each lesson
Early introduction of hands on activities in each lesson
See More
Instructors Resources
Request a print evaluation copy
Contact us

Contact your Wiley Representative
Find Your Rep

See More
See Less
Purchase Options

Information about Wiley E-Texts:
Wiley E-Texts are powered by VitalSource and accessed via the VitalSource Bookshelf reader, available online and via a downloadable app.
Wiley E-Texts are accessible online and offline, and can be read on a variety of devices, including smartphones and tablets.
Wiley E-Texts are non-returnable and non-refundable.
Wiley E-Texts are protected by DRM. For specific DRM policies, please refer to our FAQ.
WileyPLUS registration codes are NOT included with any Wiley E-Text. For informationon WileyPLUS, click here .
To learn more about Wiley E-Texts, please refer to our FAQ.

Information about e-books:
E-books are offered as e-Pubs or PDFs. To download and read them, users must install Adobe Digital Editions (ADE) on their PC.
E-books have DRM protection on them, which means only the person who purchases and downloads the e-book can access it.
E-books are non-returnable and non-refundable.
To learn more about our e-books, please refer to our FAQ.