Textbook
Fundamentals of Menu Planning, 3rd Edition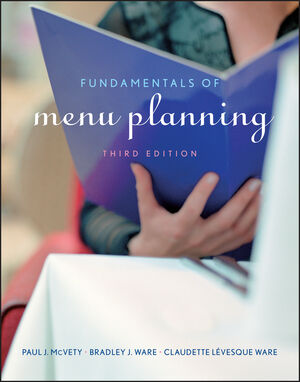 Understanding the fundamentals of menu planning is essential to building a successful foodservice concept since the menu is the foundation upon which a foodservice operation builds both its reputation and profit. Reflecting the latest menu trends in the restaurant industry, the authors show how research, surveys, and sales analysis are key to menu planning and design.Fundamentals of Menu Planning, Third Edition
presents a complete overview of key aspects of menu planning, including designing, writing, costing, marketing, and merchandising a menu. The content in this edition is divided into three parts. Part I focuses on the evolution of the menu and includes topics such as menu trends in the industry, performing market research and creating a market survey, nutrition and dietary guidelines, and menu planning. Part II examines the financial aspects of menu planning such as performing a yield test, creating and writing standardized recipes, and recipe costing. Part III covers writing, designing, and merchandising the menu.
With this accessible resource, hospitality management students, culinary students, restaurateurs and other foodservice professionals will all gain a thorough understanding of how an effective and successfully planned menu is fundamental to the success and profitability of the wider foodservice enterprise.
See More
Chapter 1: New Trends in the Foodservice Industry.
Chapter 2: Market Survey.
Chapter 3: Nutrition and Menu Planning.
Chapter 4: Foodservice Menus.
Chapter 5: The Yield Test.
Chapter 6: Standard Recipes.
Chapter 7: Recipe Costing.
Chapter 8: Characteristics of a Menu.
Chapter 9: Sales History.
Chapter 10: Merchandising the Menu.
Chapter 11: Foodservice Equipment Analysis.
Appendix A: Descriptive Copy Exercise.
Appendix B: Descriptive Terms for Menus.
Appendix C: Words Frequently Misspelled on Students' menus.
Appendix D: Culinary Terms.
Appendix E: Measurements.
Appendix F: A Practical Guide to the Nutrition Labeling Laws for the Restaurant Industry.
Appendix G: National Restaurant Association's Accuracy in Menus.
Appendix H: Menu Marketing Characteristics.
Appendix I: Menu-Making Principles.
Bibliography.
Glossary.
Index.
See More
Paul J. McVety is Dean of Culinary Academics at Johnson & Wales University in Providence, Rhode Island.
BRADLEY J. WARE is a Professor in the College of Culinary Arts at Johnson & Wales University in Providence, Rhode Island.
CLAUDETTE LéVESQUE WARE is a Professor in the John Hazen White School of Arts and Sciences at Johnson & Wales University in Providence, Rhode Island.
See More
Instructors Resources
ENHANCE YOUR COURSE
Digital evaluation copy available for this title
Request Copy

Contact your Wiley Representative
Find Your Rep

See More
See Less
Purchase Options

Information about Wiley E-Texts:
Wiley E-Texts are powered by VitalSource technologies e-book software.
With Wiley E-Texts you can access your e-book how and where you want to study: Online, Download and Mobile.
Wiley e-texts are non-returnable and non-refundable.
WileyPLUS registration codes are NOT included with the Wiley E-Text. For informationon WileyPLUS, click here .
To learn more about Wiley e-texts, please refer to our FAQ.

Information about e-books:
E-books are offered as e-Pubs or PDFs. To download and read them, users must install Adobe Digital Editions (ADE) on their PC.
E-books have DRM protection on them, which means only the person who purchases and downloads the e-book can access it.
E-books are non-returnable and non-refundable.
To learn more about our e-books, please refer to our FAQ.