Textbook
La lengua que heredamos, 6th Edition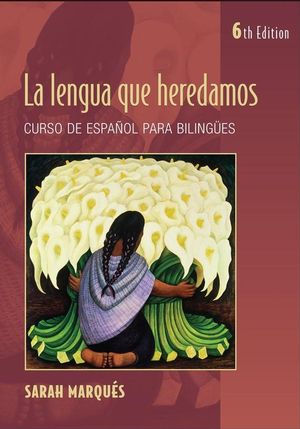 La lengua que heredamos has been designed for heritage learners of Spanish. Its proven literacy-building approach provides the tools necessary to use Spanish more effectively in personal and professional situations. All four skills - reading, writing, speaking,listenting- are stressed throughout the text. The language explanations are clear and simple, and special attention is given to critical areas such as spelling, correct use of accents, vocabulary that builds on expressions used at home and in informal situations, and false cognates due to English interference.

See More
Lección Preliminar
Capítulo 1: Grupos Hispanos En Los Estados Unidos
Capítulo 2: España
Capítulo 3: México
Capítulo 4: Los Mexicoamericanos
Capítulo 5: Puerto Rico
Repaso I
Capítulo 6: Cuba
Capítulo 7: La República Dominicana
Capítulo 8: Guatemala
Capítulo 9: El Salvador
Capítulo 10: Honduras
Repaso II
Capítulo 11: Nicaragua
Capítulo 12: Costa Rica
Capítulo 13: Panamá
Capítulo 14: Colombia
Capítulo 15: Venezuela
Repaso III
Capítulo 16: Ecuador
Capítulo 17: Perú
Capítulo 18: Bolivia
Capítulo 19: Chile
Capítulo 20: Paraguay
Repaso IV
Capítulo 21: Uruguay
Capítulo 22: Argentina
Repaso V
Apéndices
Spanish—English Glossary
Credits
Photo Credits
Index
See More
A list of authors whose works reflect the Hispanic experience in the United States has been added to Chapter 1.
Exercises have been modified to provide for more peer interaction.
Composición dirigida exercises expanded.
Confusión de palabras parecidas en la pronunciación has been expanded.
Popular phrases in Spanish using animals have been added.
Many jokes in the Humor sections are new.
Repaso sections every five chapters have been expanded.
See More
MISCELÁNEA PARA LEER Y COMENTAR gives students more opportunities for reading and speaking while providing them with cultural insights into the Hispanic world.
LECTURA provides readings diverse in content and authorship that highlights a particular Spanish-speaking country or group within the US to give students insight into the rich Hispanic world.
SEMEJANZAS Y CONTRASTES clarifies a large number of words and phrases commonly confused due to English interference.
ORTOGRAFÍA covers the use of troublesome letters.
See More
Purchase Options

Information about Wiley E-Texts:
Wiley E-Texts are powered by VitalSource technologies e-book software.
With Wiley E-Texts you can access your e-book how and where you want to study: Online, Download and Mobile.
Wiley e-texts are non-returnable and non-refundable.
WileyPLUS registration codes are NOT included with the Wiley E-Text. For informationon WileyPLUS, click here .
To learn more about Wiley e-texts, please refer to our FAQ.

Information about e-books:
E-books are offered as e-Pubs or PDFs. To download and read them, users must install Adobe Digital Editions (ADE) on their PC.
E-books have DRM protection on them, which means only the person who purchases and downloads the e-book can access it.
E-books are non-returnable and non-refundable.
To learn more about our e-books, please refer to our FAQ.
This title is also available on :
Learn more about