Textbook
Laboratory Manual for Anatomy and Physiology, 3rd Edition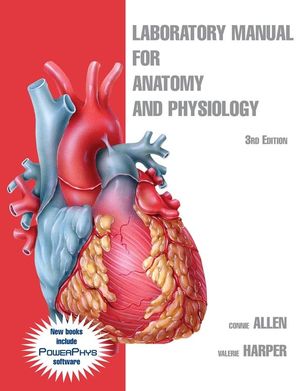 The Laboratory Manual for Anatomy and Physiology by Allen and Harper presents material covered in the 2-semester undergraduate anatomy & physiology laboratory course in a clear and concise way, while maintaining a student-friendly tone.   This best selling manual is bundled with a Cat or Fetal Pig Dissection Manual for courses that require them.  It is very interactive and contains activities and experiments that enhance students' ability to both visualize anatomical structures and understand physiological topics.  Lab exercises are designed to require students to first apply information they learned and then to critically evaluate it.  All lab exercises promote group learning and the variety offers learning experiences for all types of learners (visual, kinesthetic, and auditory).  Additionally, the design of the lab exercises makes them easily adaptable for distance learning courses.
See More
Introduction
Exercise 1 – Anatomical Language
Exercise 2 – Organ Systems and Body Cavities
Cell and Tissues
Exercise 3 – Compound Light Microscope
Exercise 4 – Cell Structure and Function 
Exercise 5 – Transport Across the Plasma Membrane
Exercise 6 – Tissues
Integumentary System
Exercise 7 – Integumentary System Structure and Function  
Skeletal System and Joints
Exercise 8 – Bone Structure and Function
Exercise 9 – Axial Skeleton
Exercise 10 – Appendicular Skeleton
Exercise 11 – Joints and Synovial Joint Movements
Muscular System:  Skeletal Muscles
Exercise 12 – Skeletal Muscle Structure
Exercise 13 – Contraction of Skeletal Muscle
Exercise 14 – Skeletal Muscles and Their Actions
Surface Anatomy
Exercise 15 - Surface Anatomy
Nervous System
Exercise 16 – Nervous Tissue
Exercise 17 – Spinal Cord Structure and Function
Exercise 18 – Spinal Nerves
Exercise 19 – Somatic Reflexes
Exercise 20 – Brain Structure and Function
Exercise 21 – Cranial Nerves
Exercise 22 – Autonomic Nervous System Structure and Function
Exercise 23 – General Senses  
Exercise 24 – Special Senses
Endocrine System
Exercise 25 – Endocrine Structure and Function
Cardiovascular System
Exercise 26 – Blood Components and Blood Tests
Exercise 27 – Heart Structure and Function
Exercise 28 – Cardiac Cycle
Exercise 29 – Blood Vessel Structure and Function
Exercise 30 – Blood Vessel Identification
Lymphatic and Immune Systems
Exercise 31 – Lymphatic System Structure and Immune System Function
Respiratory System
Exercise 32 – Respiratory System Structure and Function
Exercise 33 – Pulmonary Ventilation
Digestive System
Exercise 34 – Digestive System Structure and Function
Exercise 35 – Chemical Digestion
Urinary System
Exercise 36 – Urinary System Structure and Function
Exercise 37 – Urine Formation and Urinalysis
Reproductive Systems
Exercise 38 – Male Reproductive System Structure and Function
Exercise 39 – Female Reproductive System Structure and Function
Human Development and Heredity
Exercise 40 – Human Development
Exercise 41 – Heredity
Answer Key to Activities
Appendix A :  Word Roots
Appendix B:  Skeletal Muscle Origins and Insertions               
Photo Credits
Index
See More
Two new exercises -- Cardiac Cycle and Pulmonary Ventilation – are added to this third edition.
New activities within exercises increase the opportunity for students to use their visual and motor skills in learning key concepts.
Coverage is now more integrated within individual laboratory exercises, rather than an atlas at the end of the text.
Based on reviewer feedback new introductory narratives  - a brief overview of the basic structure and function of each body system
Each new lab manual includes a PowerPhys CD for students to use.  PowerPhys is physiological simulation software that allows students to explore physiology principles through 10 self-contained activities.  Each activity progresses through objectives with illustrated and animated review material, pre-lab quizzes, pre-lab reports, data collection and analysis, and a full lab report with discussion and application questions.  Experiments contain randomly generated data, allowing users to experiment multiple times, but still arrive at the same conclusions.    Updated and Enhanced Media Support – This third edition is supported by fully revised media components such as Anatomy Drill and Practice, Cadaver Practical, and Histology Review.  The dynamic new program, Real Anatomy, brings the cadaver dissection experience to your students desktop.  A rat dissection video is added to the already available cat and fetal pig videos, and cadaver review videos are also now available.
See More
Concise text -- The authors include just enough text to introduce concepts in each section and to set up and support the laboratory activities. 
Self-contained Lab Exercises -- All information and features needed to complete a set of laboratory activities are complete for each exercise, including lab reports. This keeps students focused on the topics learned in that lab.
Variety of Questions and Activities -- Includes fill-in-the blank, art labeling, drawing, and identification questions.
Lab Reporting – Two types of lab reports complete each exercise.  The "Reviewing Your Knowledge" section at the end of each lab exercise provides a thorough review of the material in the lab. "Using Your Knowledge" reports ask students to apply the  information they  have learned.
Illustration Program -- Unlabeled four-color drawings, photographs, and photomicrographs are included for students to label.  Many of the figures are modified version of art from the Tortora A&P books, though some of the illustrations are unique to the Lab Manual. 
Answer Key.  Answers to fill-in the blanks, labeling and identification exercises are found at the end of the manual for self-grading by students.
See More
Purchase Options
Paperback&nbsp&nbsp&nbsp
Laboratory Manual for Anatomy and Physiology, 3rd Edition
ISBN : 978-0-470-08470-0
752 pages
January 2008, ©2009
$154.95&nbsp&nbsp&nbsp
BUY

Information about Wiley E-Texts:
Wiley E-Texts are powered by VitalSource technologies e-book software.
With Wiley E-Texts you can access your e-book how and where you want to study: Online, Download and Mobile.
Wiley e-texts are non-returnable and non-refundable.
WileyPLUS registration codes are NOT included with the Wiley E-Text. For informationon WileyPLUS, click here .
To learn more about Wiley e-texts, please refer to our FAQ.

Information about e-books:
E-books are offered as e-Pubs or PDFs. To download and read them, users must install Adobe Digital Editions (ADE) on their PC.
E-books have DRM protection on them, which means only the person who purchases and downloads the e-book can access it.
E-books are non-returnable and non-refundable.
To learn more about our e-books, please refer to our FAQ.