Textbook
Principles of Anatomy and Physiology, 12th Edition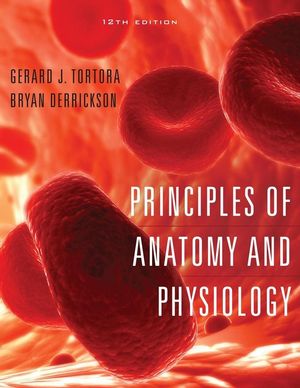 The twelfth edition of the phenomenally successful Principles of Anatomy and Physiology continues to set the standard for the discipline.   The authors have maintained a superb balance between structure and function and continue to emphasize the correlations between normal physiology and pathophysiology, normal anatomy and pathology, and homeostasis and homeostatic imbalances.  The acclaimed illustration program has been extensively revised.   The twelfth edition is fully integrated with a host of innovative electronic media, including the dynamic new Real Anatomy and a re-designed WileyPlus.   No other text and package offers a teaching and learning environment as rich and complete.
See More
Unit I: Organization of the Human Body.
1. An Introduction to the Human Body.
2. The Chemical Level of Organization.
3. The Cellular Level of Organization.
4. The Tissue Level of Organization.
5. The Integumentary System.
Unit II: Principles of Support and Movement.
6. The Skeletal System: Bone Tissue.
7. The Skeletal System: The Axial Skeleton.
8. The Skeletal System: The Appendicular Skeleton.
9. Joints.
10. Muscle Tissue.
11. The Muscular System.
Unit III: Control Systems of the Human Body.
12. Nervous Tissue.
13. The Spinal Cord and Spinal Nerves.
14. The Brain and Cranial Nerves.
15. The Autonomic Nervous System.
16. Sensory, Motor and Integrative Systems.
17. The Special Senses.
18. The Endocrine System.
Unit IV: Maintenance of the Human Body.
19. The Cardiovascular System: The Blood.
20. The Cardiovascular System: The Heart.
21. The Cardiovascular System: Blood Vessels and Hemodynamics.
22. The Lymphatic System, Nonspecific Resistance to Disease, and Immunity.
23. The Respiratory System.
24. The Digestive System.
25. Metabolism.
26. The Urinary System.
27. Fluid, Electrolyte, and Acid-Base Homeostasis.
Unit V: Continuity.
28. The Reproductive Systems.
29. Development and Inheritance.
See More
Revision of the Nervous Tissue and Immune System chapters receive special attention in this edition.  Both chapters have been rewritten to provide greater clarity and include newly developed figures to aid student comprehension of these difficult topics.
New and enhanced visual program -- 200 New and updated illustrations appear throughout this 12th edition.  In particular, all images for the skeletal and muscular systems have been newly rendered in a more realistic, contemporary style.  Most cadaver photographs and histology micrographs are new to this edition.  These photographs are paired with the illustrations, offering students an enriched visual environment from which to learn. 
MP3 Downloads – Selected illustrations within the text, highlighted  by an iPod icon, indicate that a MP3 file is available for download.  These audio files provide narration and discussion about the illustration and content that it depicts.
Real Anatomy, dynamic NEW software, allows students to dissect through 6 layers of a three-dimensional real human body and study and learn the anatomical structures of all body systems from multiple perspectives.   It completes a suite of media offerings for both lecture and lab [with Interactions and PowerPhys], providing the richest and most complete media enhanced content available in the market. 
Resources for students within WileyPLUS are organized around learning styles, with specific strategies and tips for effective study to encourage, engage and maximize students' time. WileyPLUS is a powerful online tool providing instructors and students with an integrated suite of teaching and learning resources, including an online version of the text, in one easy-to-use website. 
See More
An innovative art program of generously sized illustrations – each including a key concept statement and review question -- provides a consistent learning environment enabling students to make the connection between text and visual elements.
A concise narrative, praised by students for its straightforward and easily comprehensible writing style, emphasizes scientific content over extraneous detail.
Exhibits –specially designed self-contained lessons  -- provide students with the extra help needed to learn the numerous structures that constitute certain body systems – most notably skeletal muscles, articulations, blood vessels and nerves.
The duel themes of homeostasis and disruptions to homeostasis are effectively presented through the relevant use of in-chapter applications, end-of-chapter disorder boxes, and end-of-chapter lists of medical terminology.
Continued coverage of scientific research and breakthroughs in understanding the human body keep the book on the cutting edge.
Carefully integrated learning aids, such as pronunciations, word roots, summary tables, and cross-references complement the readable narrative.
An extensive supplements package with aids to facilitate the variety of teaching and learning styles.
See More
This is an excellent book for teaching human anatomy and physiology courses. (Doody s , August 2009)
See More
Purchase Options
Loose-leaf&nbsp&nbsp&nbsp
Principles of Anatomy and Physiology, Twelfth Edition with Atlas and registration card Binder Ready Version
ISBN : 978-0-470-27987-8
1280 pages
April 2008, ©2009
$159.95&nbsp&nbsp&nbsp
BUY
Hardcover&nbsp&nbsp&nbsp
Principles of Anatomy and Physiology, 12th Edition
ISBN : 978-0-470-08471-7
32 pages
April 2008, ©2009
$249.95&nbsp&nbsp&nbsp
BUY

Information about Wiley E-Texts:
Wiley E-Texts are powered by VitalSource technologies e-book software.
With Wiley E-Texts you can access your e-book how and where you want to study: Online, Download and Mobile.
Wiley e-texts are non-returnable and non-refundable.
WileyPLUS registration codes are NOT included with the Wiley E-Text. For informationon WileyPLUS, click here .
To learn more about Wiley e-texts, please refer to our FAQ.

Information about e-books:
E-books are offered as e-Pubs or PDFs. To download and read them, users must install Adobe Digital Editions (ADE) on their PC.
E-books have DRM protection on them, which means only the person who purchases and downloads the e-book can access it.
E-books are non-returnable and non-refundable.
To learn more about our e-books, please refer to our FAQ.