Textbook
Human Resources Management in the Hospitality Industry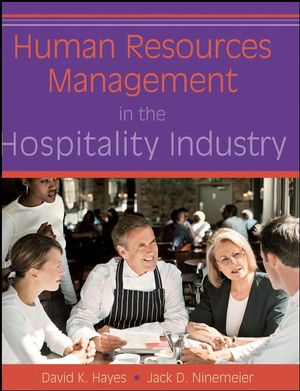 Managing human resources in the hospitality industry presents special challenges, including highly diverse employee backgrounds and roles, an ever-present focus on guest services, and organizational structures that often diverge from generic corporate models.  By making such industry-specific concerns the cornerstone of its approach,
Human Resources Management in the Hospitality Industry
provides the definitive guide to successfully employing people in a hospitality organization. 
The book approaches hospitality human resource (HR) management as a decision making process that affects the performance, quality, and legal compliance of the hospitality business as a whole.  Beginning with a foundation of the hospitality industry, employment law, and HR policies, the coverage includes recruitment, training, compensation, performance appraisal, environmental and safety concerns, ethics and social responsibility, and special issues. 
Throughout the book, Human Resources Management in the Hospitality Industry focuses on unique HR dilemmas faced by managers in the hospitality industry, including:
Understanding the needs of a broad employee group, from hourly workers with tip credit eligibility questions to high level accountants ensuring Sarbanes-Oxley compliance
How hospitality managers who must act as one-person HR departments can make effective decisions and understand the consequences to themselves, their workers, and employers
Working with labor unions in the hospitality industry using the labor-related legislation that affects the industry
Managing employees in a global hospitality enterprise
Available Versions