Textbook
Fundamentals of Risk and Insurance, 10th Edition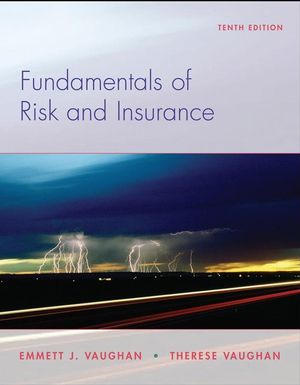 This consumer-oriented textbook addresses the principles of risk management without skimping on the discussion of insurance.  It summarizes the nature of pure risk on the individual and on society, and illustrates how insurance can be used to deal with the problems posed by such risk. 
Mirroring the diverse experience of its authors, Vaughan 10e is equally effective in presenting the principles of insurance theory and offering how-to advice to students.  Throughout, the main emphasis is on the insurance product and the use of insurance within the risk management framework. 
The traditional fields of life insurance, health insurance, property and liability insurance and social insurance are treated in terms of their relationship to the wide range of insurable risks to which the individual and the business firm are exposed.
See More
Section One. Risk Insurance, and Risk Management.
Chapter 1. The Problem of Risk.
Chapter 2.  Introduction to Risk Management.
Chapter 3. The Insurance Device.
Chapter 4. Risk Management Applications.
Chapter 5. The Private Insurance Industry.
Chapter 6. Regulation of the Insurance Industry.
Chapter 7. Functions of Insurers
Chapter 8. Financial Aspects of Insurer Operations.
Chapter 9. The Legal Framework.
Section Two. Life and Health Insurance. 
Chapter 10. Managing Personal Risks.
Chapter 11. Social Insurance Programs.
Chapter 12. Introduction to Life Insurance.
Chapter 13. The Actuarial Basis of Life Insurance.
Chapter 14. The Life Insurance Contract—General Provisions.
Chapter 15. The Life Insurance Contract—Other Provisions.
Chapter 16. Special Life Insurance Forms.
Chapter 17. Buying Life Insurance.
Chapter 18. Annuities and Pension Benefits.
Chapter 19. Managing the Retirement Risk.
Chapter 20. Health Insurance: Disability Income Insurance.
Chapter 21. Health Insurance—Coverage for Medical Expenses.
Chapter 22. Health Insurance for the Elderly.
Chapter 23. Employee Benefits and Other Business Uses of Life and Health Insurance.
Section Three. Property and Liability Insurance
Chapter 24. The Homeowners Policy—General Provisions.
Chapter 25. The Homeowners Policy Forms.
Chapter 26. Other Personal Forms of Property Insurance.
Chapter 27. Negligence and Legal Liability.
Chapter 28. General Liability Insurance for the Individual.
Chapter 29. The Automobile and its Legal Environment.
Chapter 30. The Personal Auto Policy.
Chapter 31. Commercial Property Insurance.
Chapter 32. Commercial Liability Insurance.
Chapter 33. Surety Bond and Credit Insurance.
Chapter 34. Insurance in the Future.
Glossary.
Author Index.
Subject Index.
See More
Dr. Emmett J. Vaughan
was a professor at the
University of Iowa
in the Tippie College of Business.  For 20 years he served as the editor of the
Agency Mangement Manual,
Dr. Vaughan also served as a consultant to the US Department of Labor
Therese M. Vaughan
is the Robb B. Kelley Distinguished Professor of Insurance and Actuarial Science at
Drake
University
.  Prior to joining Drake, she served as Iowa Insurance Commissioner for over 10 years and as President of the National Association of Insurance Commissioners.
See More
Expanded the coverage of risk management into two chapters, by first introducing the basic concepts of risk management and insurance, and then discussing specific applications of the principles

Updated sample policy forms for use with this edition are available for download on the student companion site

This edition now reflects the numerous changes in the field of insurance as a result of the new tax laws passed in June 2001, including a complete revision of the discussion of estate planning.

Chapter 21 has been significantly revised, with a decrease in the emphasis on traditional health insurance as sold by insurance companies, and an increased emphasis on managed care plans,such as HMOs.

Chapters 24, 25, and 28 have been revised to reflect the changes in the new homeowners program released in 2000.

NEW Chapter 34 - Current Topics - available online

See More
Integrates principles of risk management and insurance buying throughout the discussion of insurance coverages.

Provides a thorough and comprehensive introduction to the field of insurance.
See More
Instructors Resources
ENHANCE YOUR COURSE
Digital evaluation copy available for this title
Request Copy

Contact your Wiley Representative
Find Your Rep

See More
See Less
Purchase Options

Information about Wiley E-Texts:
Wiley E-Texts are powered by VitalSource technologies e-book software.
With Wiley E-Texts you can access your e-book how and where you want to study: Online, Download and Mobile.
Wiley e-texts are non-returnable and non-refundable.
WileyPLUS registration codes are NOT included with the Wiley E-Text. For informationon WileyPLUS, click here .
To learn more about Wiley e-texts, please refer to our FAQ.

Information about e-books:
E-books are offered as e-Pubs or PDFs. To download and read them, users must install Adobe Digital Editions (ADE) on their PC.
E-books have DRM protection on them, which means only the person who purchases and downloads the e-book can access it.
E-books are non-returnable and non-refundable.
To learn more about our e-books, please refer to our FAQ.