Textbook
Operations Management: Creating Value Along the Supply Chain, 6th Edition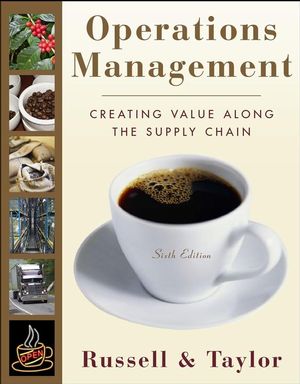 Operations management is the study of processes directly related to the creation and distribution of goods and services. Increasingly, these operations are taking place outside of the boundaries of a traditional enterprise. Thus, while today's managers need to understand how to efficiently manage operations within their own firm, they also need to develop skills in coordinating operations across a global supply chain.
Operations Management:  Creating Value Along the Supply Chain, 6e teaches students how to analyze processes, ensure quality, create value, and manage the flow of information, products and services across a network of customers, enterprises and supply chain partners.
The new 6th edition offers an extensive collection of exercises and solved problems, along with problem-solving support, to help students with the quantitative material in their Operations Management course.  WileyPLUS links problems from the book to relevant sections in an online version of the text, while providing opportunities for more practice and a quantitative survival guide.


for
Operations Management: Creating Value Along the Supply Chain, 6th Edition
. Learn more at
WileyPLUS.com
Available Versions