Textbook
Wiley Pathways Introduction to Database Management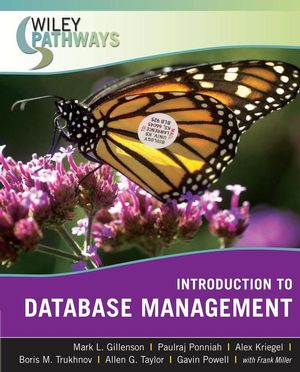 You can get there

Where do you want to go? You might already be working in the information technology field and may be looking to expand your skills. You might be setting out on a new career path. Or, you might want to learn more about exciting opportunities in database management.

Wherever you want to go, Introduction to Databases will help you get there. Easy-to-read, practical, and up-to-date, this text not only helps you learn fundamental database design and management concepts, it also helps you master the core competencies and skills you need to succeed in the classroom and in the real world. The book's brief, modular format and variety of built-in learning resources enable you to learn at your own pace and focus your studies.

With this book, you will be able to:
* Appreciate the key role of data in daily business operations and strategic decisions.
* Understand databases, database management systems, and SQL, the software on which they are based, from the ground up.
* Know how to gather and organize critical business information, design a database based on this information, and retrieve and modify that information in a useful manner.
* Use accepted data modeling procedures to design a relational database.
* Master the concept of data normalization and the use of standard normalization rules.
* Explore critical real-world issues including application integration and securing data against disclosure and loss.

Wiley Pathways helps you achieve your goals

Not every student is on the same path, but every student wants to succeed. The Information Technology series in the new Wiley Pathways imprint helps you achieve your goals. The books in this series--Introduction to Databases, Introduction to Programming Using Visual Basic, Introduction to Operating Systems, Networking Basics, Windows Network Administration, Network Security Fundamentals, and PC Hardware Essentials--offer a coordinated information technology curriculum. Learn more at www.wiley.com/go/pathways
See More
1 Introducing to Data and Data Management 1
2 Introducing Databases and Database Management Systems 24
3 Data Modeling 60
4 Designing a Database 104
5 Implementing a Database 146
6 Understanding the SQL Language 184
7 Data Access and Manipulation 223
8 Improving Data Access 263
9 Database Administration 300
10 Transactions and Locking 332
11 Data Access and Security 368
12 Supporting Database Applications 412
Glossary 448
Index 465
See More
Project manual: Separate manual with 5 exercises per chapter helps students apply textbook concepts and skills in practical way
Pre-test: Pre-reading assessment tool in multiple-choice format. Introduces chapter material and helps students get an idea of what they know and where they need to focus their efforts.
What You ll Learn in this Chapter and After Studying this Chapter: Presents the subject matter that the student will learn and emphasizes capabilities and skills students will build.
Goals and Outcomes. These lists identify specific student capabilities that will result from reading the chapter. They help the student set expectations and show them what to reach for.
Figures and tables. Line art and photos are carefully chosen to be instructional. Tables distill and present information clearly so students can focus on the essential ideas.
Introduction. This section orients the student by introducing the chapter and explaining its importance. Short summaries of chapter sections preview the topics to follow.
Chapters. Each chapter is broken down into an average of four or five concise sections. A short assessment is provided at the end of each section
For Example Boxes: Found within each segment, a real world example is anchored to each section that illustrates and applies the preceding content.
Self-Check: Short answer questions at the end of the chapter let students know if they ve mastered the content. Each question set includes a link to a section of the pre-test for further review.
Summary: Each chapter concludes with a summary paragraph that captures and reviews the major concepts in the chapter and links back to the What you ll learn list.
Key Terms and Glossary: A convenient list of all terms that appear in boldfaced throughout the chapter are listed at the end of the chapter and in the glossary.
Summary Questions help students summarize the chapter s main points by asking a series of multiple choice and true/false questions that emphasize how well they understand the concepts and content.
Review Questions in short answer format review the major points in each chapter. It encourages critical thinking skills while reinforcing and confirming that the concepts and content are understood.
Applying this Chapter Questions drive home key ideas by asking students to combine and apply chapter concepts to new, real-life situations and scenarios.
You Try It! Questions encourage students to draw conclusions using chapter material applied to real-world situations, which promotes both mastery of the content and independent learning.
Post-test should be taken after students have completed the chapter. It includes all of the questions in the pre-test, so that students can see how their learning has progressed and improved.
See More
"An excellent introductory data-base management book under $50."- Professor Jigish Zaveri, Morgan State University
See More
Instructors Resources
Digital evaluation copy available for this title
Request Copy

Contact your Wiley Representative
Find Your Rep

See More
See Less
Purchase Options
Wiley Pathways Introduction to Database Management
ISBN : 978-0-470-46039-9
508 pages
September 2009, ©2009
Paperback
Wiley Pathways Introduction to Database Management
ISBN : 978-0-470-10186-5
508 pages
March 2007, ©2008
Paperback
Wiley Pathways Introduction to Database Management, 1e with Project Manual Set
ISBN : 978-0-470-17805-8
820 pages
March 2007, ©2008

Information about Wiley E-Texts:
Wiley E-Texts are powered by VitalSource and accessed via the VitalSource Bookshelf reader, available online and via a downloadable app.
Wiley E-Texts are accessible online and offline, and can be read on a variety of devices, including smartphones and tablets.
Wiley E-Texts are non-returnable and non-refundable.
Wiley E-Texts are protected by DRM. For specific DRM policies, please refer to our FAQ.
WileyPLUS registration codes are NOT included with any Wiley E-Text. For informationon WileyPLUS, click here .
To learn more about Wiley E-Texts, please refer to our FAQ.

Information about e-books:
E-books are offered as e-Pubs or PDFs. To download and read them, users must install Adobe Digital Editions (ADE) on their PC.
E-books have DRM protection on them, which means only the person who purchases and downloads the e-book can access it.
E-books are non-returnable and non-refundable.
To learn more about our e-books, please refer to our FAQ.