Textbook
Microbiology: Principles and Explorations, 7th Edition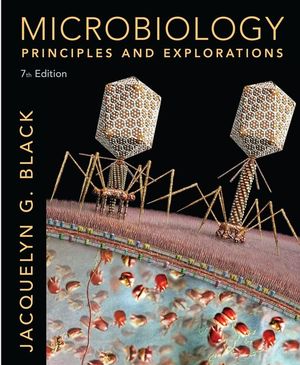 Microbiology: Principles and Explorations
has been a best-selling textbook for several editions due to the author's engaging writing style where her passion for the subject shines through the narrative.  The text's student-friendly approach provides readers with an excellent introduction to the study of Microbiology.   This text is appropriate for non-major and mixed major microbiology courses, allied health, agriculture and food sciences courses too.
See More
Chapter 1. Scope And History Of Microbiology.
Chapter 2. Fundamentals Of Chemistry.
Chapter 3. Microscopy And Staining.
Chapter 4. Characteristics Of Prokaryotic And Eukaryotic Cells.
Chapter 5. Essential Concepts Of Metabolism.
Chapter 6. Growth And Culturing Of Bacteria.
Chapter 7. Microbial Genetics.
Chapter 8. Gene Transfer And Genetic Engineering.
Chapter 9. An Introduction To Taxonomy: The Bacteria.
Chapter 10. Viruses.
Chapter 11.
Eukaryotic Microorganisms and Parasites
Chapter 12.
Sterilization and Disinfection
Chapter 13
Antimicrobial Therapy
Chapter 14
Host-Microbe Relationships and Disease Processes
Chapter 15
Epidemiology and Nosocomial Infections
Chapter 16
Innate Host Defenses
Chapter 17
Immunology I : Basic Principles of Adaptive Immunity and Immunization
Chapter 18
Immunology II : Immunological Disorders and Tests
Chapter 19
Diseases of the Skin and Eyes;Wounds and Bites
Chapter 20
Urogenital and Sexually Transmitted Diseases
Chapter 21
Diseases of the Respiratory System
Chapter 22
Oral and Gastrointestinal Diseases
Chapter 23
Cardiovascular, Lymphatic, and Systemic Diseases
Chapter 24
Diseases of the Nervous System
Chapter 25
Environmental Microbiology
Chapter 26
Applied Microbiology
See More
Jacquelyn  Black
received her B.A., B.S., M.S. from the University of Chicago and her Ph.D. from Catholic University of America. She has been teaching microbiology to undergraduates since 1970. She is a member of the American Society for Microbiology, and she has received grants for conducting teacher-training programs.
In May 0f 2000, the Washington Academy of Sciences gave Jackie the Leo Schubert Award for Excellence in Teaching of Science in College. This award is given for exceptional teaching and writing in the field of microbiology, with particular emphasis on the teaching o undergraduate students.
In addition to her extensive teaching experience, Dr. Black has engaged in fieldwork and studies throughout the globe. Her travels have taken her from the interior of Iceland to Belgium, Germany, Lappland, China, South America, Portugal, the barrier reef of Belize, and most recently to over a dozen universities in Russia.
Dr. Black describes herself as an "incorrigible snoop," interested in all the various aspects and applications of microbiology. this natural curiosity, coupled with her classroom and laboratory experience, makes her uniquely qualified to author an introductory microbiology textbook. This book conveys her sense of excitement for microbiology and offers the most current information on developments and applications within this field.
See More
·     
"Come with me"
New Chapter Openers, provide a visually stimulating introduction to an important example or breakthrough from that chapter.  The author shares her experiences in today's applications of microbiology
·      "Improved Art Program" The art program has been updated with a number of new beautifully rendered illustrations, updated micrographs and photographs are found throughout this new edition.
·      "Cutting edge currency" Fully revised coverage of bioterrorism, microbial genetics and immunology to include the most up to date examples, applications, and information.
·      "Take another look" New end-of-chapter questions including new and revised Clinical Case Studies, Figure Questions, and Critical Thinking Questions, and Self-Quiz Questions.
·         "Book Specific Animations and Video Clips" New animations and video clips have been added to amplify key concepts for students.
·      "Available with Wiley PLUS!" Wiley PLUS is a powerful online tool that provides instructors and students with an integrated suite of teaching and learning resources in one easy-to-use website.  Organized around the essential activities needed for course success, Wiley PLUS includes an area – Prepare and Present -- with resources to ease the preparation for instructors and enhance the classroom experience, an area for students to Read, Study, and Practice - including an online version of the text -- and an Assessment area that allows instructors to assess student understanding more closely and analyze results with an automatic gradebook.  View a demo and learn more about Wiley PLUS by visiting www.wiley.com/college/wileyplus.
See More
·      Text is known for its extensive use of applications throughout the narrative of every chapter that help students comprehend  key principles.  Examples include "pimples that can lead to septicemia if squeezed" and "Involuntary drunkenness caused by yeast fermenting in stomach food".
·      Informal, student-centered writing style serves more as a narrative for students exploring microbiology than as a textbook that reads as a list of facts.
·      Accurate and informative art program.  The text includes artwork produced by award winning medical illustrators and photographs that have been personally researched and identified by the author.
·      Authoritative author.  This title is written by a microbiologist, who teaches microbiology on a consistent basis.
·      Supportive pedagogical aids that help foster a students understanding of the subject matter and its applications.
See More
Purchase Options
Wiley E-Text&nbsp&nbsp&nbsp

Microbiology: Principles and Explorations, 7th Edition
ISBN : 978-0-470-45392-6
November 2008, ©2008
Hardcover&nbsp&nbsp&nbsp
Microbiology: Principles and Explorations, 7th Edition
ISBN : 978-0-470-10748-5
968 pages
January 2008, ©2008
$213.95&nbsp&nbsp&nbsp
BUY

Information about Wiley E-Texts:
Wiley E-Texts are powered by VitalSource technologies e-book software.
With Wiley E-Texts you can access your e-book how and where you want to study: Online, Download and Mobile.
Wiley e-texts are non-returnable and non-refundable.
WileyPLUS registration codes are NOT included with the Wiley E-Text. For informationon WileyPLUS, click here .
To learn more about Wiley e-texts, please refer to our FAQ.

Information about e-books:
E-books are offered as e-Pubs or PDFs. To download and read them, users must install Adobe Digital Editions (ADE) on their PC.
E-books have DRM protection on them, which means only the person who purchases and downloads the e-book can access it.
E-books are non-returnable and non-refundable.
To learn more about our e-books, please refer to our FAQ.
This title is also available on :
Learn more about