Textbook
Childrens Literature: A Developmental Perspective, 1st Edition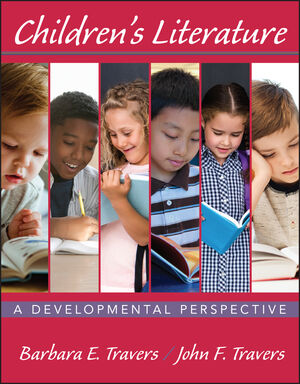 Those who work with children need a wide and deep knowledge of children's literature. This new text, through its developmental approach, examines children's abilities, needs, and interests. Children's Literature: A Developmental Perspective combines children's literature with developmental psychology, aiming to better prepare future teachers to meet the needs of individual children and to help develop their literary skills. By reading this text, students will learn what makes the most recently published books attractive to children, while still recognizing the value of books that have held children's interests in the past.
See More
Part One. Introduction.
Chapter 1. Children, Literature, And Development: Interactions And Insights.
Chapter 2. Children And Their Literature: Changes Through The Years.
Part Two. Understanding Children's Literature.
Chapter 3. Genres In Children's Literature.
Chapter 4. Analyzing, Selecting, And Responding To Children's Literature.
Chapter 5. The Craft Of Writing And Illustrating.
Chapter 6. Diversity In Children's Literature.
Part Three. The Content Of Children's Literature.
Chapter 7. Literature For The Early Years (Birth To Two).
Chapter 8. Literature For The Preschool Years (2-4).
Chapter 9. Literature For The Early Elementary School Years (5-7).
Chapter 10. Literature For The Intermediate Years (8-11).
Chapter 11. Literature For The Middle School Years (11-14).
Chapter 12. Literature For The High School Years (14-18).
Part Four. Topics For Teachers And Librarians.
Chapter 13. Science Literature Through The Grades: A Curricular Model.
Chapter 14. Issues For Teachers And Librarians.
See More
Developmental Summary Charts: Each genre chapter will include a summary of the developmental features of the period that highlight outstanding biopsychosocial characteristics.
Then and Now: Traces the changes that occur in the interpretation of various issues -- for example, the development of picture books -- and is a rich source of information for readers.
Culture and Children's Literature: These features stress the role that any culture plays in its literature and the developmental effects it has on children.
Chapter-Opening Vignettes: Deisgned to prepare the reader for the material to come, thus encouraging meaningful learning.
Guidelines for Reading the Chapter: Help readers focus on the important elements of the chapter.
What's Your View?: Designed to encourage readers to divulge their opinions on the matter under discussion.
Spotlight On...Outstanding Authors and Illustrators: Intended to demonstrate the background and talent of various outstanding individuals (Maurice Sendak, Virginia Hamilton, etc.).
Recommended Children's Books and Professional Bibliography: Each chapter concludes with a listing of recommended titles (over 2,000 from all the chapters combined).
See More
Instructors Resources
Digital evaluation copy available for this title
Request Copy

Contact your Wiley Representative
Find Your Rep

See More
See Less
Purchase Options

Information about Wiley E-Texts:
Wiley E-Texts are powered by VitalSource and accessed via the VitalSource Bookshelf reader, available online and via a downloadable app.
Wiley E-Texts are accessible online and offline, and can be read on a variety of devices, including smartphones and tablets.
Wiley E-Texts are non-returnable and non-refundable.
Wiley E-Texts are protected by DRM. For specific DRM policies, please refer to our FAQ.
WileyPLUS registration codes are NOT included with any Wiley E-Text. For informationon WileyPLUS, click here .
To learn more about Wiley E-Texts, please refer to our FAQ.

Information about e-books:
E-books are offered as e-Pubs or PDFs. To download and read them, users must install Adobe Digital Editions (ADE) on their PC.
E-books have DRM protection on them, which means only the person who purchases and downloads the e-book can access it.
E-books are non-returnable and non-refundable.
To learn more about our e-books, please refer to our FAQ.