Textbook
Wiley Pathways Selling, 1st Edition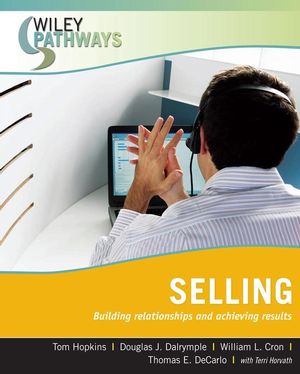 Salesmanship is an essential skill that carries over into many industries. In Selling, the latest text from the Business series in the Wiley Pathways imprint, students learn up-to-date information and techniques on prospecting, planning sales calls, making great presentations, and closing the sale.
See More
Part I: The Art of Selling 1
1. The Life and Career of a Professional Salesperson 1
2. Ethical and Legal Issues in Selling 23
Part II: Preparing for the Sale 45
3. Why People Buy 45
4. Communication Skills for Relationship Building 65
5. Prospecting 93
6. Planning a Sales Call 124
Part III: The Selling Process 146
7. Making a Sales Call 146
8. Elements of a Great Sales Presentation 164
9. Responding to Objections 187
10. Closing a Sale 204
11. After the Sale: Service to Build a Partnership 223
Part VI: Managing Yourself and Your Career 241
12. Time and Territory Management: Keys to Success 241
13. Managing and Training Others 263
Endnotes 295
Glossary 301
Index 312
See More
Pre-test: Pre-reading assessment tool in multiple-choice format. Introduces chapter material and helps students get an idea of what they know and where they need to focus their efforts.
What You ll Learn in this Chapter and After Studying this Chapter: Presents the subject matter that the student will learn and emphasizes capabilities and skills students will build.
Goals and Outcomes. These lists identify specific student capabilities that will result from reading the chapter. They help the student set expectations and show them what to reach
Figures and tables. Line art and photos are carefully chosen to be instructional. Tables distill and present information clearly so students can focus on the essential ideas
Introduction. This section orients the student by introducing the chapter and explaining its importance. Short summaries of chapter sections preview the topics to follow.
Chapters. Each chapter is broken down into an average of four or five concise sections. A short assessment is provided at the end of each section.
For Example Boxes: Found within each segment, a real world example is anchored to each section that illustrates and applies the preceding content.
Self-Check: Short answer questions at the end of the chapter let students know if they ve mastered the content. Each question set includes a link to a section of the pre-test for further review.
Summary: Each chapter concludes with a summary paragraph that captures and reviews the major concepts in the chapter and links back to the What you ll learn list
Key Terms and Glossary: A convenient list of all terms that appear in boldfaced throughout the chapter are listed at the end of the chapter and in the glossary
Summary Questions help students summarize the chapter s main points by asking a series of multiple choice and true/false questions that emphasize how well they understand the concepts and content
Review Questions in short answer format review the major points in each chapter. It encourages critical thinking skills while reinforcing and confirming that the concepts and content are understood.
Applying this Chapter Questions drive home key ideas by asking students to combine and apply chapter concepts to new, real-life situations and scenarios.
You Try It! Questions encourage students to draw conclusions using chapter material applied to real-world situations, which promotes both mastery of the content and independent learning.
Post-test should be taken after students have completed the chapter. It includes all of the questions in the pre-test, so that students can see how their learning has progressed and improved.
See More
"This book is one of the best I have seen, for the experienced or inexperienced salesperson. It lays out the foundations very clearly and builds upon them in a structured format. I have over 30 years experience in sales management and I can honestly say "old pros" would even learn from this book."- Professor David Bambridge, Warner Southern College
"The book is laid out in a logical sequence that uses a sound 'building block' approach that fosters the learning process. This is a meaningful; straight forward approach to an often misunderstood and poorly presented topic." - Professor Roger King, Miami International University of Art and Design
See More
Instructors Resources
Digital evaluation copy available for this title
Request Copy

Contact your Wiley Representative
Find Your Rep

See More
See Less
Purchase Options

Information about Wiley E-Texts:
Wiley E-Texts are powered by VitalSource and accessed via the VitalSource Bookshelf reader, available online and via a downloadable app.
Wiley E-Texts are accessible online and offline, and can be read on a variety of devices, including smartphones and tablets.
Wiley E-Texts are non-returnable and non-refundable.
Wiley E-Texts are protected by DRM. For specific DRM policies, please refer to our FAQ.
WileyPLUS registration codes are NOT included with any Wiley E-Text. For informationon WileyPLUS, click here .
To learn more about Wiley E-Texts, please refer to our FAQ.

Information about e-books:
E-books are offered as e-Pubs or PDFs. To download and read them, users must install Adobe Digital Editions (ADE) on their PC.
E-books have DRM protection on them, which means only the person who purchases and downloads the e-book can access it.
E-books are non-returnable and non-refundable.
To learn more about our e-books, please refer to our FAQ.